US summoned envoys to show 'consequences': AIT
'TROUBLING': The US considers any effort to determine the future of Taiwan by other than peaceful means of grave concern, AIT Chairman James Moriarty said
The US' decision to summon its envoys to the Dominican Republic, El Salvador and Panama should tell Beijing that it cannot pressure nations to break diplomatic relations with Taiwan without consequences, American Institute in Taiwan (AIT) Chairman James Moriarty said on Wednesday.
Moriarty described China's actions of the past few years, which ended a diplomatic truce with Taiwan, as "troubling," adding that Beijing's efforts to unilaterally alter the "status quo" across the Taiwan Strait are harmful and do not contribute to regional stability.
"We will tell the Chinese that picking off diplomatic partners of Taiwan is a source of great concern to the United States," he said at an annual symposium organized by the Washington-based Global Taiwan Institute. "We've been telling China as clearly as possible that these are not consequence-free actions."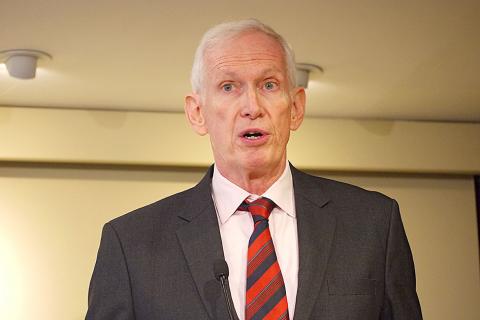 American Institute in Taiwan Chairman James Moriarty speaks at a symposium in Washington on Wednesday.
Photo: CNA
Taiwan has lost five diplomatic allies to China since President Tsai Ing-wen (蔡英文) took office in May 2016, including Panama in June last year, the Dominican Republic in May and El Salvador last month, reducing the number of nations that recognize it to 17.
On Friday last week, the US Department of State said it had summoned US Ambassador to the Dominican Republic Robin Bernstein, US Ambassador to El Salvador Jean Manes and US Charge d'Affaires in Panama Roxanne Cabral for "consultations related to recent decisions to no longer recognize Taiwan."
Observers in the US, both outside and inside government, and including a broad spectrum of members of the US Congress, are deeply troubled that China has escalated its pressure on Taiwan, including increased People's Liberation Army activity in the air and seas around Taiwan, Moriarty said.
Recent congressional action on Taiwan, including the unanimous passage of the Taiwan Travel Act, reflects those concerns, he said.
Consistent with the Taiwan Relations Act, the US considers any effort to determine the future of Taiwan by other than peaceful means, including by boycotts or embargoes, of grave concern to the US, Moriarty said.
"We encourage both sides of the Taiwan Strait to demonstrate patience, flexibility and creativity in resolving differences," he said.
When asked by a reporter why the US did not recall its ambassador to China if it wants to send a message to Beijing, Moriarty said there are many issues that the US and China need to tackle and that Taiwan is an important one.
The US has to make Washington's stance clear to China, he said, adding that the US government's move had drawn Beijing's attention.
The US hopes the two sides of the Taiwan Strait would resume constructive dialogue, he said.
Moriarty said he did not know whether talks between Taiwan and the US under the bilateral Trade and Investment Framework Agreement would be held this year.
Taiwan-US trade discussions have been conducted regularly to seek common ground to address certain bothersome issues, he said.
It would take some time for Taiwan and the US to sign a free-trade agreement, Moriarty said, adding that more formal talks would be held only if progress is made on pending issues.
Comments will be moderated. Keep comments relevant to the article. Remarks containing abusive and obscene language, personal attacks of any kind or promotion will be removed and the user banned. Final decision will be at the discretion of the Taipei Times.