Sheraton triggers online furor with 'China' listing
"Ignorance is the greatest risk," National Cheng Kung University Department of Electrical Engineering professor Li Jung-shian (李忠憲) said on Facebook on Thursday, after reports emerged earlier in the day that the Wi-Fi login page at the Four Points by Sheraton Linkou hotel listed Taiwan as "Taiwan, China" next to the Chinese flag.
Many netizens responded to the reports by flooding the New Taipei City-based hotel's Facebook page with negative reviews and bad ratings.
While China's suppression of Taiwan is nothing new, the incident has provoked disgust among many Taiwanese because Taiwan was the only place in the world that had not yet been insulted and contaminated by the use of "Taiwan, Province of China," Li said.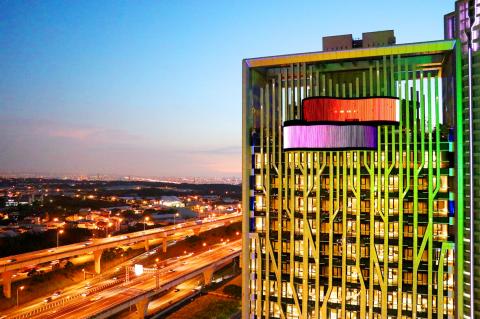 The Four Points by Sheraton Linkou hotel in New Taipei City is pictured on Thursday.
Photo: CNA
Even though Taiwan's problem clearly presents itself in the eyes of foreigners, the average Taiwanese is unaware and believes that Taiwan is a part of China and that China is not trying to annex Taiwan, Li said, adding that the average Taiwanese is also unaware of what Beijing has done in Xinjiang, Tibet, Hong Kong and other places.
While China's economic development is astonishing, after suffering a setback with the cross-strait service trade agreement it has run out of ways to encroach on Taiwan, he said, referring to an attempt in 2014 by the then-Chinese Nationalist Party (KMT) government to force through passage of the proposed agreement, sparking the Sunflower movement, which halted its passage in the Legislative Yuan.
However, Chinese agencies in charge of Taiwan affairs have significant numbers of personnel and vast resources — they had to be put to work, he added.
Contrary to Beijing's goal of unification, Li said that China's "united front" tactics against Taiwan have enhanced the Taiwanese public's understanding of who the nation's enemy is and about cross-strait relations.
Meanwhile, the Four Points by Sheraton Linkou on Thursday afternoon said on Facebook that it cannot make changes to the system on its own and that it has reported the incident and made suggestions to Marriott International.
The hotel said it is directly managed by Marriott International, and its services, facilities and even marketing materials must follow the standards of the international brand.
As the hotel is currently in its trial operation stage, it "humbly accepts all guests' suggestions," it said, adding that it would do its best to improve and hopes that the public would not neglect its efforts due to the incident.
At about 4pm yesterday, the hotel said on Facebook that its Wi-Fi login page had been "updated."
However, many netizens, unhappy that the hotel did not publicize its revisions, continued posting angry messages on its Facebook page demanding an apology from upper management.
Comments will be moderated. Keep comments relevant to the article. Remarks containing abusive and obscene language, personal attacks of any kind or promotion will be removed and the user banned. Final decision will be at the discretion of the Taipei Times.