Nation's first full Apache brigade to enter service
The Republic of China Army 601st Air Cavalry Brigade is to formally become the first air brigade to be fully equipped with Boeing Co AH-64E Apache attack helicopters following a ceremony on Wednesday next week, a Ministry of National Defense official said yesterday.
President Tsai Ing-wen (蔡英文) is to officiate at the ceremony, which is being planned by the Army Command Headquarters, the official said on condition of anonymity.
Other distinguished guests would also attend the ceremony, where the helicopters' capabilities would be demonstrated, he added.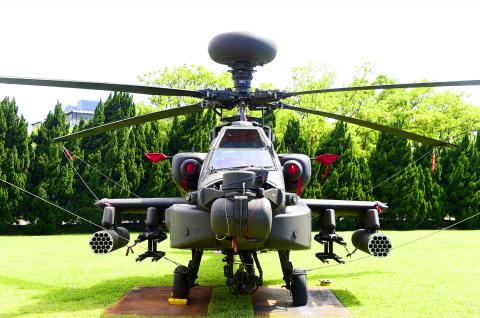 A Boeing AH-64E Apache attack helicopter is pictured in Taipei on April 28 last year.
Photo: Pan Shao-tang, Taipei Times
Some officials have said that in addition to Boeing representatives, several officers from the US Army's 25th Combat Aviation Brigade, the air brigade's sister unit, would also attend the ceremony.
When asked for comment, the ministry and headquarters declined to confirm or deny the claim, citing the sensitive nature of Taiwan-US relations.
The 601st and 602nd Air Cavalry brigades operate under the Army Aviation and Special Forces Command, with the former fielding all 29 of Taiwan's serviceable Apaches and the latter fielding older AH-1W Cobra attack helicopters.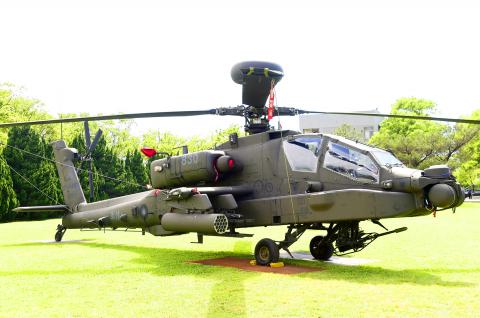 A Boeing AH-64E Apache attack helicopter is pictured in Taipei on April 28 last year.
Photo: Pan Shao-tang, Taipei Times
Responsible for the defense of northern Taiwan, the 601st has two combat aviation squadrons that provide air support as part of the army's air-land combined arms strategy, alongside armor, artillery, special forces and infantry units.
The first squadron, which has recently passed operational readiness evaluations, is tasked with training new Apache pilots in addition to its regular duties, the official said.
As the second squadron was declared operational in July last year, the entire brigade is now combat-ready, he said.
The Apache attack helicopter is a mobile and powerful weapons platform armed with a 30mm chain gun and, depending on the mission, a mixture of Hellfire anti-tank missiles, 2.75-inch Hydra rockets and Stinger air-to-air missiles, he said.
The Apache E variant's most significant equipment is the Longbow fire-control radar located on top of the rotor mast, which provides day-and-night, all-weather, 360-degree search capabilities for air and ground targets, the official said.
The helicopter can simultaneously track 128 targets and engage 16 of them, making it more lethal and more likely to survive, he added.
Each Apache E can designate targets and extend air combat control to up to three other gunships, which means that the army does not need to equip all the helicopters with Longbow radar, he said.
Comments will be moderated. Keep comments relevant to the article. Remarks containing abusive and obscene language, personal attacks of any kind or promotion will be removed and the user banned. Final decision will be at the discretion of the Taipei Times.