Taiwanese, friends protest PRC's bullying in Brussels
CITY-CENTER MARCH: European Parliament member Boris Zala said Taiwan is recognized as a model of democracy in Asia and around the world
Taiwanese students, expatriates and diplomats were joined by a variety of supporters on Tuesday in a march through Brussels to protest against China's bullying of Taiwan.
About 250 people, including representatives from Taiwan's diplomatic allies posted to the EU, pro-Taiwan members of the European Parliament, Belgian lawmakers and other officials took part in the 2km march, which began at the Theatre Royal de la Monnaie at about noon and ended in front of the Taipei Representative Office to the EU.
Some of the protesters wore T-shirts emblazoned with the Republic of China flag as they held flags and walked behind a large banner bearing the words "Support for Taiwan" during the two-hour march.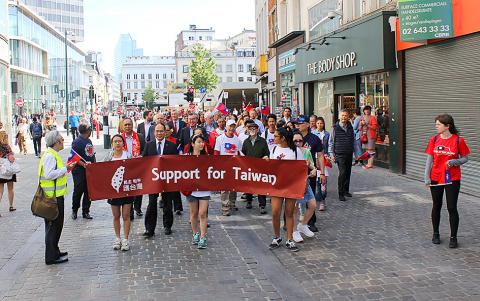 Taiwanese expatriates and others stage a protest in Brussels on Tuesday against China's bullying of Taiwan.
Photo: CNA, courtesy of the Taipei Representative Office in the EU and Belgium
China has ramped up pressure on Taiwan over the past few months by blocking the nation in the international arena, which prompted Taiwanese expatriates in Belgium to organize the march to ensure Taiwan's voice is heard in the international community and to "say no" to China's bullying, Representative to the EU and Belgium Tseng Ho-jen (曾厚仁) said.
The march was supported by the representative office and Taiwan's international friends, who staged the march to ensure Taiwan's voice is heard in the international community, Tseng said.
Belgian lawmaker Georges Dallemagne, joint chairman of the Belgium-Taiwan Friendship Group, said it was important for him to take part in the march because he is a friend of Taiwan and because Taiwan is a democratic nation with a vigorous economy that wants to help deal with global issues, such as improving global healthcare.
Slovakian member of the European Parliament Ivan Stefanec said that Taiwan is one of his favorite nations and he encouraged Taiwanese to continue promoting democracy because democracy is important to both Taiwan and Taiwan-EU relations.
His compatriot and fellow lawmaker Boris Zala said: "We always support democratic countries."
Taiwan is recognized as a model of democracy in Asia and around the world, Zala said as he praised Taiwan for demonstrating against China's oppression.
Among the other marchers were Palauan Ambassador to the EU Jeraldine Ebil Tudong, Tuvaluan Ambassador to the EU Aunese Makoi Simati and European Parliament members Bernd Kolmel, Cristian Dan Predd, Dieter Lebrecht Koch and Ivo Vajgl.
Comments will be moderated. Keep comments relevant to the article. Remarks containing abusive and obscene language, personal attacks of any kind or promotion will be removed and the user banned. Final decision will be at the discretion of the Taipei Times.