US lawmaker urges action on Taiwan
'DEAR TO MY HEART': Washington must ensure Taiwan has all the tools it needs to protect itself from Chinese aggression, US Representative Ileana Ros-Lehtinen said
A US lawmaker yesterday urged Washington to increase Taipei's political, economic and military capabilities in the face of Beijing's growing aggression.
US Representative Ileana Ros-Lehtinen, a former chairwoman of the US House of Representatives Committee on Foreign Affairs, made the remarks in a speech at the Presidential Office yesterday morning, after receiving the Order of Propitious Clouds with Special Grand Cordon from President Tsai Ing-wen (蔡英文) for her promotion of Taiwan-US ties over the past 30 years.
With the 39th anniversary of the Taiwan Relations Act just eight days away, Ros-Lehtinen said she was proud to say that the relationship between Taiwan and the US is stronger than ever.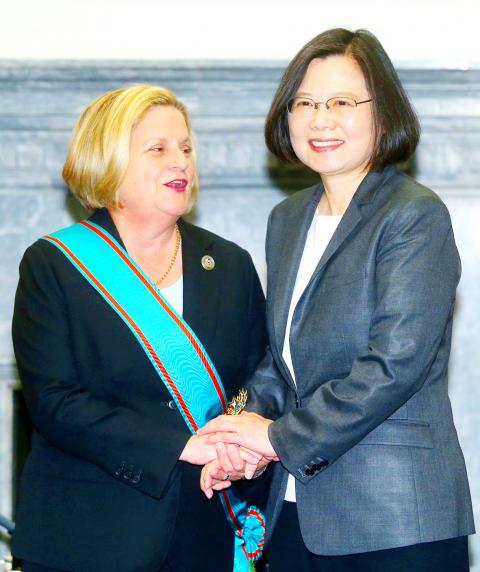 President Tsai Ing-wen, right, shakes hands with US Representative and former House Committee on Foreign Affairs chairwoman Ileana Ros-Lehtinen at the Presidential Office in Taipei yesterday.
Photo: CNA
"For as long as I am in Congress ... Taiwan and the issues that are important at the face of this island-nation have been near and dear to my heart," she said.
Lauding Taiwan's vibrant economy, open society, free media, freedom of expression and respect for human rights, Ros-Lehtinen said these elements are why Taiwan is the US' natural partner and why it is important for Washington to ensure that "Taiwan remains Taiwan."
"Whether it is a new trade deal, a new weapons system, increasing ties in Latin America, strengthening of participation in all sorts of international organizations, we have got to work together to ensure that Taiwan has all the tools that she needs to protect itself from Chinese aggression and coercion," she said.
Tsai said in her speech that the US' enactment on March 16 of the Taiwan Travel Act, which encourages high-level visits by Taiwanese and US officials, was due to the US Congress' staunch support for Taiwan.
The strong bilateral ties that the two nations have are the accumulated results of the collective efforts of many people, Tsai said, encouraging Ros-Lehtinen to visit Taiwan more often.
Earlier yesterday, the Ministry of Foreign Affairs issued a statement welcoming Ros-Lehtinen and her delegation after their arrival on Sunday for a three-day visit.
The delegation also includes US Representative Claudia Tenney, who was elected in 2016, the ministry said, adding that Ros-Lehtinen and Tenney are both are members of the Congressional Taiwan Caucus and important allies to Taiwan in the US Congress.
"During her term as committee chairwoman, Ros-Lehtinen held two hearings on 'Why Taiwan matters' In addition to urging her colleagues and the US executive branch to value the Taiwan-US relationship, she has also actively pushed for several Taiwan-friendly bills," the ministry said.
Other evidence of Ros-Lehtinen's long-time support includes a speech she gave calling for support for the Taiwan Travel Act when it was being reviewed at the House, the ministry said.
Ros-Lehtinen also received Tsai when the president made a transit stop in Miami on her way to the nation's diplomatic allies in Central America and the Pacific in June 2016, it added.
The US delegation would meet with senior officials to discuss issues of mutual interest and ways to improve relations between Taiwan and the US, the American Institute in Taiwan said.
Comments will be moderated. Keep comments relevant to the article. Remarks containing abusive and obscene language, personal attacks of any kind or promotion will be removed and the user banned. Final decision will be at the discretion of the Taipei Times.