No exemption due to Chinese metals
SUPPLY CHAIN: Minister Without Portfolio John Deng said that talks would continue with Washington on excluding the nation from tariffs on Chinese steel and aluminum
Minister Without Portfolio John Deng (鄧振中), the nation's top trade negotiator, yesterday said Taiwanese firms' practice of exporting to the US products made of steel and aluminum from China was the reason that Taiwan has not been exempted from tariffs announced by Washington.
Deng, who is returning to Taiwan after leading a delegation to the US on Sunday last week to seek a tariff exemption, made the remark in a telephone interview with the Central News Agency.
The nation's unsuccessful attempt to be included in the list of exemptions reflected Washington's concerns that some Taiwanese firms import steel and aluminum from China and process them into finished goods before selling them to the US market, Deng said.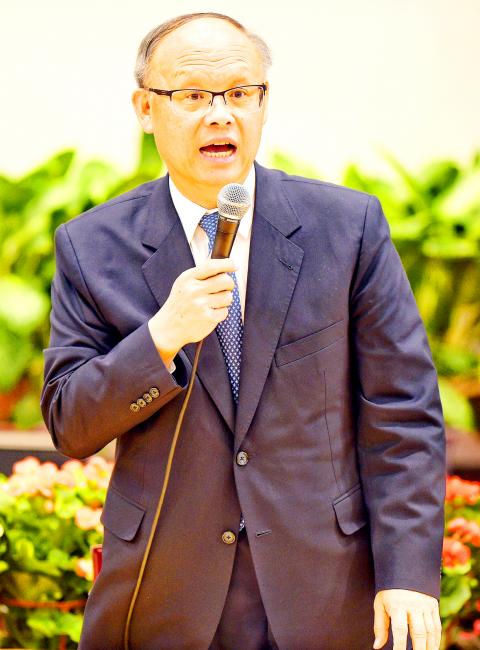 Minister Without Portfolio John Deng speaks at an event at the Presidential Office Building in Taipei on Nov. 13 last year.
Photo: Chang Chia-ming, Taipei Times
US President Donald Trump's tariffs seem to be aimed at curbing alleged dumping of Chinese steel and aluminum products in the US, he said.
Washington might be hoping to work with other nations to stop this situation, he added.
Deng said that after returning to Taiwan early today, he would meet with local exporters to map out a solution.
Despite the setback, he said the government would continue to try to convince the US to exempt Taiwan as a whole, while encouraging individual exporters to seek their own exemption.
The Ministry of Economic Affairs would provide assistance to individual firms that wish to seek an exemption, he added.
The temporary exemption list would not take effect until a formal notice is released by the end of next month, Deng said, adding that Washington welcomes other nations to enter into talks with its trade office for an exemption.
On March 8, Trump signed an order under Section 232 of the US' Trade Expansion Act of 1962 to impose a 25 percent tariff on imported steel and a 10 percent tariff on aluminum.
The duties took effect on Friday.
It was the first time in more than three decades that the law has been invoked to protect a US industry from competition from imports.
On Friday, US Trade Representative Robert Lighthizer told a US Senate panel that Trump has decided to grant a temporary exemption to the EU, Canada, Mexico, Australia, Brazil, Argentina and South Korea as it carries out further negotiations with them.
However, the order signed by Trump leaves open a door to other nations that want to get tariff waivers, as long as they are able to offer a satisfactory alternative during talks with the Office of the US Trade Representative.
While in the US, Deng met with many US government officials and academics from major think tanks, as well as representatives from the business sector, which he said helped him gain a better understanding about the tariff issue.
Deng said he would report to Premier William Lai (賴清德) as soon as possible to discuss whether he will lead another delegation to Washington.
Taiwan's steel product exports to the US totaled US$1.3 billion last year, accounting for 13.16 percent of the nation's total exports, while aluminum product exports totaled US$44 million, or 6.15 percent of total aluminum exports, the ministry said
Last year, the US was the largest buyer of the nation's steel products and the sixth-largest buyer of aluminum products, it said.
Comments will be moderated. Keep comments relevant to the article. Remarks containing abusive and obscene language, personal attacks of any kind or promotion will be removed and the user banned. Final decision will be at the discretion of the Taipei Times.