Taiwan to seek backing from US on arms sales
DIALOGUE: The US-Taiwan Defense Industry Conference would discuss the threats facing Taiwan and different ways to exploit China's weaknesses in various domains
Taiwan intends to take advantage of an annual defense conference with the US that was to open yesterday in Princeton, New Jersey, to seek Washington's support for arms sales and cooperation opportunities with US defense companies, sources said.
Taiwan will seek backing for its weapons procurement proposals and cooperation with US defense manufacturers at the three-day US-Taiwan Defense Industry Conference, a source with direct knowledge of the matter said on condition of anonymity.
The efforts are necessary at a time when US President Donald Trump's administration has yet to respond to Taipei's request to purchase Lockheed Martin F-35 jets, or deliver on former US president George W. Bush's pledge to sell the nation eight diesel-electric submarines, the source said.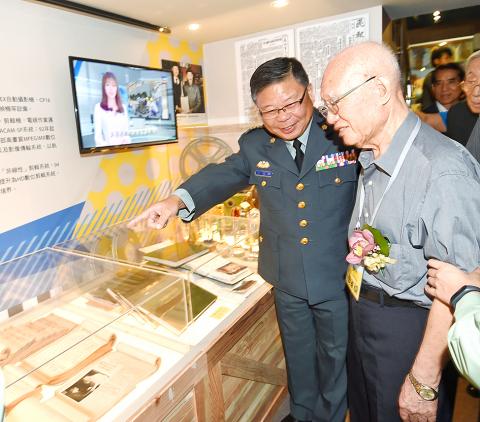 Deputy Defense Minister General Chang Guan-chung, left, attends the opening of an exhibition in Taipei on July 7. Chang is leading a Taiwanese delegation to the US-Taiwan Defense Industry Conference in Princeton, New Jersey.
Photo: Fang Pin-chao, Taipei Times
The US Department of State is expected to send officials "of some weight" to the conference, who are likely to meet with a Taiwanese delegation on the sidelines to talk about weapons procurement, the source added.
The conference is to focus on the US administration's Northeast Asia policies and their potential effects on Taiwan's defense.
It would also discuss the threats facing Taiwan and its response options, as well as how the nation could exploit China's weaknesses in traditional and emerging domains — air, land, sea and cyberspace — according to information on the conference's Web site.
Now in its 16th year, the conference is considered an important platform for dialogue on Taiwan's national security needs, weapons procurement and defense cooperation with the US.
The Taiwanese delegation to the three-day conference is led by Deputy Defense Minister General Chang Guan-chung (張冠群), who is to deliver a keynote speech today.
Chang is scheduled to speak after introductory remarks by American Institute in Taiwan Chairman James Moriarty.
US Principal Deputy Assistant Secretary of Defense for Asian and Pacific Security Affairs David Helvey is also to give a keynote speech later in the day.
The discussions at the conference are to include input by Ian Easton, research fellow at US-based think tank Project 2049 Institute and author of The Chinese Invasion Threat.
Business representatives from Taiwan's information security, shipbuilding and aviation industries are to join the discussions tomorrow.
The participants are to examine the potential implications of the Trump administration's policies for developing business opportunities in the defense and security industries in Taiwan and the US.
The conference has been hosted by the US-Taiwan Business Council since 2002.
Comments will be moderated. Keep comments relevant to the article. Remarks containing abusive and obscene language, personal attacks of any kind or promotion will be removed and the user banned. Final decision will be at the discretion of the Taipei Times.