US House committee passes bill on Taiwan visits
A bill to encourage visits between the US and Taiwan at all levels was passed by the US House Committee on Foreign Affairs on Thursday.
The legislation now moves on to the floor of the House of Representatives.
The bill says that since the enactment of the Taiwan Relations Act in 1979, ties between the US and Taiwan have suffered from insufficient high-level communication due to the self-imposed restrictions that the US maintains on visits by high-ranking officials to Taiwan.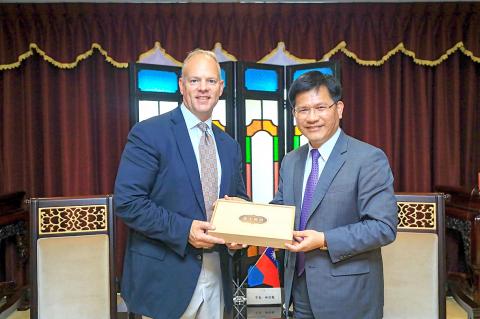 Wyoming Governor Matt Mead, left, and Taichung Mayor Lin Chia-lung exchange gifts as a delegation from Wyoming visited the Taichung City Government yesterday.
Photo: Huang Chung-shan, Taipei Times
"The United States government should encourage visits between the United States and Taiwan at all levels," the bill says.
At present, senior US government officials rarely visit Taiwan because of Washington's formal ties with China and a lack of official relations with Taipei.
When then-US Environmental Protection Agency administrator Gina McCarthy traveled to Taiwan in 2014, she was the first US Cabinet-level official to visit Taiwan in 14 years.
No other official of that level of seniority has visited since.
In a statement, committee chairman Ed Royce said the bill denounces the current practice of restricting official travel between the two sides and would serve to further strengthen the critical US-Taiwan partnership.
Before the Taiwan travel act can become law, it must be passed by both the House and the Senate, before being signed by US President Donald Trump.
In Taipei, Ministry of Foreign Affairs spokesman Andrew Lee (李憲章) yesterday said the ministry welcomed and thanked the Foreign Affairs Committee for passing the bill, which was proposed by US Representative Steve Chabot, one of the cochairs of the House Congressional Taiwan Caucus.
"The ministry believes the bill fully demonstrates [the US Congress'] support for mutual visits of senior officials from Taiwan and the US, and the advancement of US-Taiwan ties," Lee said in a statement.
As a similar bill with the same title has been introduced in the US Senate by Republican Senator Marco Rubio, the ministry said it would be watching developments closely.
Additional reporting by Stacy Hsu
Comments will be moderated. Keep comments relevant to the article. Remarks containing abusive and obscene language, personal attacks of any kind or promotion will be removed and the user banned. Final decision will be at the discretion of the Taipei Times.