Campaigners call on Beijing to let Lee Ming-che go
Dozens of people rallied yesterday to spell out "China! Free Li" in Zhongyangyiwen Park (中央藝文公園) in Taipei and calling on Beijing to released Taiwanese human rights advocate Lee Ming-che (李明哲).
Lee went missing on March 19 after entering Zhuhai, China, from Macau. More than two months later the Chinese Ministry of State Security announced that he had been arrested on a charge of subversion of state power.
He was put on trial in Hunan Province on Monday last week and the court later released video footage of him confessing to attempting to subvert the Chinese government and accepting the charge against him.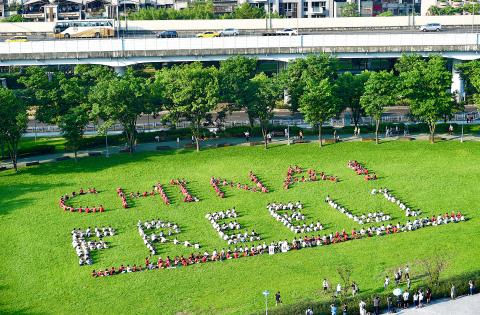 Supporters form the words "China! Free Li" yesterday as part of a protest in Taipei's Zhongyangyiwen Park calling on Beijing to release Taiwanease human rights advocate Lee Ming-che, who has been detained since the middle of March.
Photo: Peter Lo, Taipei Times
Lee's wife, Lee Ching-yu (李凈瑜), and human rights groups have been working since his disappearance to get Beijing to release him, and on Monday said that she did not recognize the validity of his trial.
Yesterday, civic groups that have been supporting Lee Ming-che gathered more than 250 supporters wearing red or white, who shouted "Freedom, not guilty! Democracy, not guilty! Release Lee Ming-che" as they formed the message "China! Free Li."
Chen Fang-ming (陳芳明), a professor in the Graduate Institute of Taiwanese Literature at National Chengchi University, said that seeing the video of Lee's confession reminded him of Chinese human rights lawyers detained by Beijing who have been forced to confess to various crimes.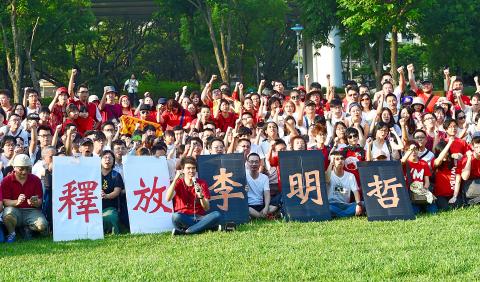 Supporters of Taiwanese human rights advocate Lee Ming-che gather in Taipei's Zhongyangyiwen Park yesterday to call on China to release him. The placards read "Free Lee Ming-che."
Photo: Peter Lo, Taipei Times
"What's the meaning of a rich and powerful state if its people cannot speak their minds? … China is an economic great power, but a dwarf in terms of human rights," he said.
The Chinese government is unwilling to accept the universal values of freedom, democracy and civic rights that are common in Taiwan, he said.
Covenants Watch chief executive officer Huang Yi-bee (黃怡碧) said she and Taiwan Association for Human Rights secretary-general Chiu Ee-ling (邱伊翎) testified before the UN Human Rights Council's Working Group on Enforced or Involuntary Disappearances in Switzerland on Wednesday about Lee Ming-che's detention and trial.
She said the working group was very concerned about him and about his wife, worried that Lee Ming-che had confessed under severe mental pressure.
As he is being held on remand at an unknown location and Lee Ching-yu had previously been barred from freely entering China to see him, the Working Group agreed to continue investigating his case.
Chiu urged Taiwanese who criticized Lee Ching-yu to stop attacking, because their right to speak freely in Taiwan was fought for by human rights advocates like Lee Ming-che.
Judicial Reform Foundation executive director Kao Jung-chih (高榮志) said the Chinese government is trying to send the message that "if you step onto Chinese territory, we have control over you no matter where you come from," and that its judicial system, which lacks the soul of the rule of law, is valid.
The groups said they will continue to air their protests to the world until Lee Ming-che is released.
Comments will be moderated. Keep comments relevant to the article. Remarks containing abusive and obscene language, personal attacks of any kind or promotion will be removed and the user banned. Final decision will be at the discretion of the Taipei Times.