Formosat-5 rockets into Earth's orbit
SUPERIOR: In response to criticism about the satellite's design, NSPO Deputy Director-General Yu Shiann-jen said that it has better capabilities than its predecessor
Formosat-5, the nation's first domestically developed satellite, was successfully launched yesterday at 2:51am Taiwan time from Vandenberg Air Force Base in California.
The satellite first communicated with a ground station in Svalbard, Norway, 83 minutes after its launch. At about 11:10am Taiwan time, it established contact with a ground station in Taoyuan's Jhongli District (中壢).
The National Space Organization (NSPO) spent six years and about NT$5.65 billion (US$186.8 million at the current exchange rate) developing Formosat-5, which is to replace the decommissioned Formosat-2 in collecting data for disaster evaluation, national security and scientific research during its five-year mission.
Minister of Science and Technology Chen Liang-gee, left, celebrates with project scientists in Hsinchu yesterday as Formosat-5, the nation's first domestically developed satellite, establishes communication with a ground station in Norway after a successful launch from Vandenberg Air Force Base in California.
Photo: CNA
Through a Taiwan Television Enterprise broadcast at the agency's control center in Hsinchu, officials, researchers and online viewers yesterday watched a US-made Space Exploration Technologies Corp (SpaceX) Falcon 9 rocket propel Formosat-5 into space.
As the satellite reached an altitude of 720km, audiences in Hsinchu and California simultaneously burst out in cheers and applause.
"The nation's last launch of a satellite was in 2006. The launch [yesterday] could be said to be 'sharpening a sword in 10 years,'" National Applied Research Laboratories (NARL) president Wang Yeong-her (王永和) said.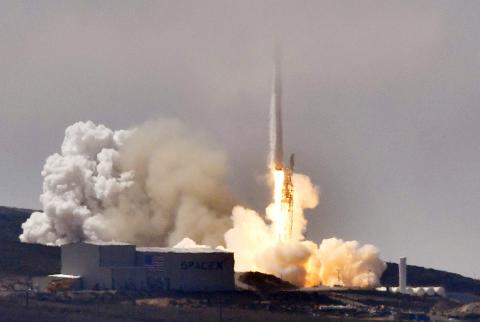 A SpaceX Falcon 9 rocket carrying Taiwan`s National Space Organization satellite lifts off from Vandenberg Air Force Base yesterday at 2:50am Taiwan time.
Photo: AP
The interpreter for the televised broadcast, National Museum of Natural Science director-general Sun Wei-hsin (孫維新), said the satellite's first images would be available in about two weeks, once its solar panels and other equipment are operational.
The decommissioned Formosat-2 contributed greatly to disaster prevention and relief, providing images of Hurricane Katrina in the US in 2005, the 2008 Sichuan earthquake in China and Typhoon Morakot in Taiwan in 2009, Sun said, adding that he believes Formosat-5 will do even better.
However, in an op-ed published by the Chinese-language Apple Daily on Friday last week, former NSPO director-general Lance Wu (吳作樂) said that Formosat-5 was no better than its predecessor, questioning the agency's "innovation."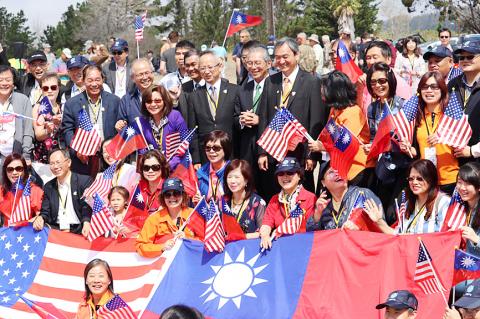 Deputy Minister of Science and Technology Su Fong-chin, wearing orange tie, and Taiwan's Representative to the US Stanley Kao, wearing green tie, in Los Angeles celebrate the successful launch of FormoSat-5 satellite from Vandenberg Air Force Base in California Thursday.
Photo: CNA
NSPO Deputy Director-General Yu Shiann-jen (余憲政) on Monday defended the satellite's development, saying: "Formosat-5 is capable of delivering color imagery and a resolution down to 4m, better than the 8m of Formosat-2. It can also adjust the angle of photographs due to its smart agility."
"More importantly, the images taken by Formosat-5 belong to Taiwan. We do not have to pay a foreign contractor like we did for Formosat-2," he added.
The nation's next space project, Formosat-7, which is to be a constellation of 12 small satellites, is being inspected by NSPO members, who are confident about its launch next year, Minister of Science and Technology Chen Liang-gee (陳良基) told a news conference in Taipei yesterday before toasting with champagne.
"We want to encourage young people to develop space technology, which is a promising industry," Chen said.
In Los Angeles, Deputy Minister of Science and Technology Su Fong-chin (蘇芳慶) addressed a party celebrating the launch, saying that success does not come easy in space.
"It takes careful planning, execution and, more importantly, dedicated team effort," Su said.
He extended his congratulations and appreciation to the NSPO's Formosat-5 team and the SpaceX launch team for their efforts.
Su also expressed Taiwan's appreciation to the US for its "long-term collaboration and partnership on many space programs over past decades."
American Institute in Taiwan Chairman James Moriarty, Representative to the US Stanley Kao (高碩泰) and NARL chairman Yang Hung-duen (楊弘敦) were among the guests at the party.
President Tsai Ing-wen (蔡英文) extended her congratulations soon after the launch.
Formosat-5's successful journey into orbit is an indication that Taiwan has taken another giant step in its technological advancement, Tsai said, adding that it would create a new momentum in the development of the nation's space-related industries.
Comments will be moderated. Keep comments relevant to the article. Remarks containing abusive and obscene language, personal attacks of any kind or promotion will be removed and the user banned. Final decision will be at the discretion of the Taipei Times.