US official's help on WHA urged
UNDETERRED: Minister of Foreign Affairs David Lee said that a delegation would be sent to Geneva to participate in bilateral meetings even if no invitation is received
US Representative Ileana Ros-Lehtinen on Friday urged US Secretary of Health and Human Services Tom Price to help Taiwan join the upcoming session of the World Health Assembly (WHA), the decisionmaking body of the WHO.
The next session of the WHA is scheduled to run from May 22 to May 31 in Geneva, Switzerland, but Taiwan has yet to receive an invitation from the WHO secretariat.
"Taiwan's exclusion from the World Health Organization threatens the international community's full access to Taiwan's high-quality healthcare information. Due to its superb talent, data collection and quarantine and treatment facilities, Taiwan has excellent infectious disease control capabilities," Ros-Lehtinen, the former chair of the US House Committee on Foreign Affairs, said in a letter to Price.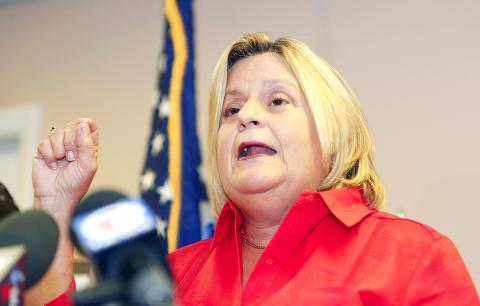 U.S. Rep. Ileana Ros-Lehtinen (R-FL) speaks at a news conference at her office in Miami, Florida August 12, 2015.
Photo: Reuters
"Its valuable information and cooperation with the [US] Centers for Disease Control was crucial in stemming the spread of SARS 14 years ago... Taiwan's cooperation with the WHO is crucial to helping global health services effectively battle these and other diseases," she said.
"As was the case with the International Civil Aviation Organization last year, it is likely that Taiwan will be blocked from receiving an invitation to the WHA summit. In a dangerous and shortsighted effort to constrain Taiwan, China hinders Taiwan's participation in many international organizations, including ICAO, WHO and Interpol. Taiwan's meaningful participation in WHO is not only in the interest of Taiwan, but is of critical importance to our own healthcare system and capability of fighting infectious diseases," she added.
She also encouraged Price "to visit Taiwan in the near future to discuss opportunities to collaborate, to our mutual benefit, on public health protection measures."
Earlier this week, Canada voiced its support for Taiwan's participation in the WHA, saying that to exclude the nation from the event would create "counterproductive" results for the international health system.
In response to questions on Tuesday by Canadian Senator Thanh Hai Ngo about Taiwan's participation in the WHA, Senator Peter Harder — the Canadian government's representative in the Canadian Senate — said that Ottawa had been supportive of Taiwan's participation in international organizations on global health and in other areas.
Canada has taken note of Taiwan's attendance at the WHA as an observer over the past eight years, Harder said, adding that it is the position of the Canadian government that Taiwan's participation is in the interest of global health.
Excluding Taiwan from the WHO would be counterproductive and create a critical gap in global health systems in the event of an outbreak of a highly contagious epidemic globally or regionally, he said.
Minister of Foreign Affairs David Lee (李大維) yesterday said that Taiwan would still send a delegation to participate in bilateral meetings, even if the nation does not receive a formal invitation to participate in this year's WHA.
"We already arranged for many bilateral meetings, which can also serve as a means for us to make an appropriate and normal contribution to the international system," he said.
Lee said that he would not join the delegation and would instead send a department head to provide assistance to Minister of Health and Welfare Chen Shih-chung (陳時中), who is to head the delegation.
Lee has repeatedly said he was not optimistic about receiving an invitation, but promised that the Ministry of Foreign Affairs' efforts would not diminish
He said there had been no developments on the issue as of noon yesterday.
Additional reporting by Abraham Gerber
Comments will be moderated. Keep comments relevant to the article. Remarks containing abusive and obscene language, personal attacks of any kind or promotion will be removed and the user banned. Final decision will be at the discretion of the Taipei Times.