Tsai urges new cross-strait mindset
President Tsai Ing-wen (蔡英文) yesterday encouraged China-based Taiwanese businesspeople to return to and invest in their home nation, while calling for a new mindset and way of doing things in cross-strait interactions.
Tsai made the remarks in a speech at a Lunar New Year gathering in Taipei with China-based Taiwanese businesspeople organized by the Straits Exchange Foundation.
"I learned from the Straits Exchange Foundation that some of our Taiwanese businesspeople belonging to the Association of Taiwan Investment Enterprises on the Mainland are planning to return home and invest in the Sanyi Wood Sculpture Park in Miaoli County's Sanyi Township (三義)," Tsai said.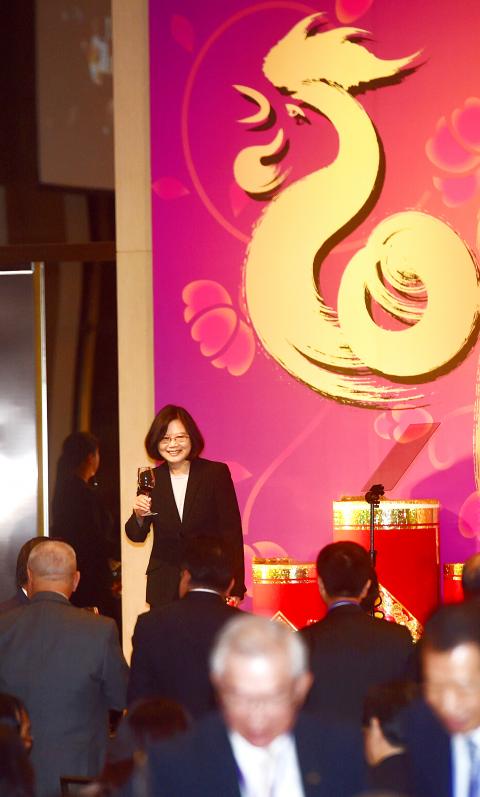 President Tsai Ing-wen smiles during a toast after giving a speech at a Lunar New Year gathering in Taipei with China-based Taiwanese businesspeople.
Photo: Chien Jung-fong, Taipei Times
They intend to build sculpture schools and tourism factories, as well as expand the Sanyi Wood Sculpture Museum, in an effort to promote the town's tourism industry and facilitate its industrial upgrade, Tsai said.
Praising the idea, Tsai said that the government would be more than willing to provide its full support and assistance to businesspeople returning home.
Turning to the state of cross-strait relations, Tsai said the development of economic ties over the past three decades has had a profound influence on the lives of people on both sides of the Taiwan Strait.
"However, amid a new international environment and the growing economic ties between the two sides, which have seen mutual interests and room for cooperation in economic and regional development, we need to jointly create a new cross-strait interaction model, with a new mindset and a new way of doing things," she said.
"Only by doing so can we respond to the shared expectation of people on both sides of the Strait and in the [Asia-Pacific] region for peace," she added.
Her administration is willing to demonstrate its greatest goodwill, and engage in a genuine dialogue and negotiation with Beijing, to create a benign and mutually beneficial economic partnership, Tsai said.
"We also call on Beijing to deal with the various problems and difficulties faced by Taiwanese businesspeople and safeguard their legal rights, free of any political intervention," she said.
The speech was Tsai's latest effort to extend an olive branch to China, despite her administration's reluctance to accept the so-called "1992 consensus."
The "1992 consensus" — a term former Mainland Affairs Council chairman Su Chi (蘇起) said in 2006 that he had made up in 2000 — refers to a tacit understanding between the Chinese Nationalist Party (KMT) and the Chinese government that both sides acknowledge there is "one China," with each side having its own interpretation of what "China" means.
After the gathering, the honorary chairman of the association, Kuo Shan-hui (郭山輝), quoted Tsai as saying that the government plans to table a new cross-strait policy to resolve the stalemate, probably later this year.
"However, given that no breakthrough would be seen regarding [Beijing's] precondition on the 'one China' principle and the '1992 consensus,' the current obstacles and deadlock across the Taiwan Strait could continue," Kuo said.
Asked about the reduced attendance at yesterday's gathering compared with previous years, Kuo said it was due to businesspeople's concerns about the government's efforts to promote cross-strait ties, not the result of political pressure from Beijing.
Additional reporting by CNA
Comments will be moderated. Keep comments relevant to the article. Remarks containing abusive and obscene language, personal attacks of any kind or promotion will be removed and the user banned. Final decision will be at the discretion of the Taipei Times.