Parade focused on heroes, diversity and the military
Yesterday's Double Ten National Day celebration in front of the Presidential Office Building in Taipei was heavy on diversity, heroes and military personnel compared with last year's event.
A parade of "heroes of wind and rain" followed President Tsai Ing-wen's (蔡英文) national day address, spotlighting those involved in disaster relief operations.
While not a full-scale military parade, the march featured a substantial number of military personnel and equipment compared with the brief military fly-over that followed former president Ma Ying-jeou's (馬英九) speech last year.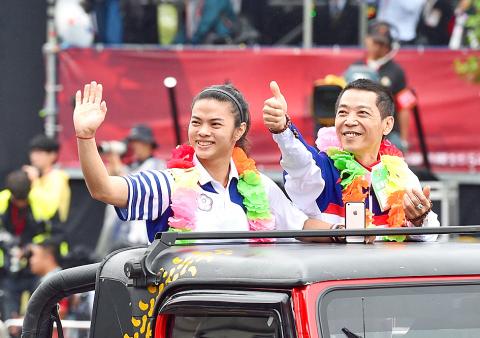 Weightlifter Hsu Shu-ching, left, who won Taiwan's first gold medal at the Rio de Janeiro Olympic Games, and her coach, Tsai Wen-yi, wave to the crowd during the National Day parade in Taipei yesterday.
Photo: Peter Lo, Taipei Times
The cloudy skies over downtown Taipei were filled with the thunder of a steady line of helicopters from the military and Ministry of the Interior fleets, which were immediately followed by a drive-by by rows of camouflaged military vehicles carrying soldiers from disaster relief units, military logistics vehicles and other equipment.
Police motorcycles and fire trucks brought up the rear as audience members waved banners thanking service members.
Medal-winning athletes from the Rio de Janiero Olympic Games — weightlifters Hsu Shu-ching (許淑淨) and Kuo Hsing-chun (郭婞淳) and archers Lei Chien-ying (雷千瑩) and Lin Shih-chia (林詩嘉) — drew prolonged applause as they rode by in jeeps.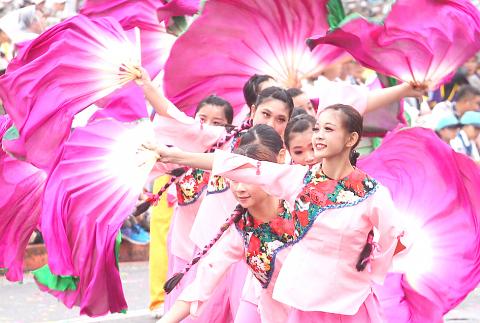 San Sin High School of Commerce and Home Economics students perform during the National Day celebrations yesterday in Taipei.
Photo: CNA
Baseball legend Chen Chin-feng (陳金鋒) led the singing of the national anthem along with members of Dongyuan Elementary School's internationally recognized Little League baseball team.
The Ministry of National Defense's Honor Guard and Joint Military Marching Band maintained their tradition of annual performances.
Another nod to tradition was the triple ceremonial bow to a portrait of Republic of China (ROC) founding father Sun Yat-sen (孫逸仙) that was superimposed over the national flag.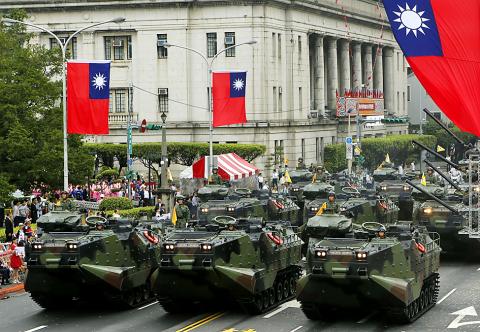 Tanks and armored vehicles taking part in the National Day parade head toward the Presidential Office Building in Taipei yesterday.
Photo: Ritchie B Tongo, EPA
There was also the traditional address by an overseas Chinese representative, even as the nation's ethnic diversity — as opposed to ethnic Han nationalism — received greater emphasis.
The opening act featured two bands performing songs in several languages: Hoklo (commonly known as Taiwanese), Hakka, Puyuma and Mandarin Chinese.
The emphasis on diversity was also apparent in the coloring of the front stage, which was painted in a rainbow pattern rather than the traditional red, white and blue colors of the national flag.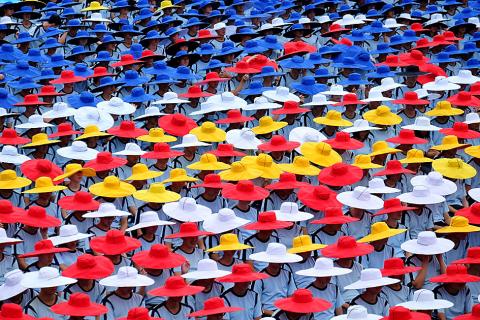 Student groups perform during the National Day celebrations in front of the Presidential Office Building in Taipei yesterday.
Photo: Sam Yeh, AFP
There were also several small changes, such as the hostesses who showed the dignitaries to their seats wearing different colored skirts instead of the traditional red qipao (旗袍) and the "national day hats" (國慶帽) worn by audience members, when seen from above, formed a mosaic depicting a Formosan black bear instead of the traditional ROC imagery.
A drive-past by Taoyuan borough wardens on zero-emission scooters, performances by the cheerleadering squads from baseball teams and students from several high schools and colleges rounded out the almost three-hour show.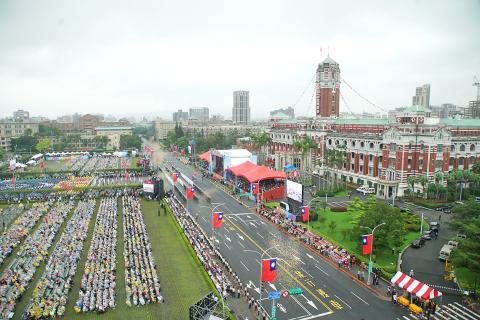 Audience members seated in front of the Presidential Office Building yesterday watch the Double Ten National Day parade in Taipei.
Photo: CNA
Comments will be moderated. Keep comments relevant to the article. Remarks containing abusive and obscene language, personal attacks of any kind or promotion will be removed and the user banned. Final decision will be at the discretion of the Taipei Times.