Hong Kong vote highlights rising anti-China mood
Hong Kongers yesterday voted in their most crucial election since the handover from Britain in 1997, the outcome of which could pave the way for a fresh round of political confrontations over Beijing's control of the territory.
The vote for Legislative Council lawmakers is to test the unity of Hong Kong's pro-democracy camp, as a new generation of activists, who emerged in the wake of the 2014 pro-democracy Umbrella movement, joined the race.
They are hoping to ride a rising tide of anti-China sentiment as they challenge formidably resourced pro-Beijing rivals for seats.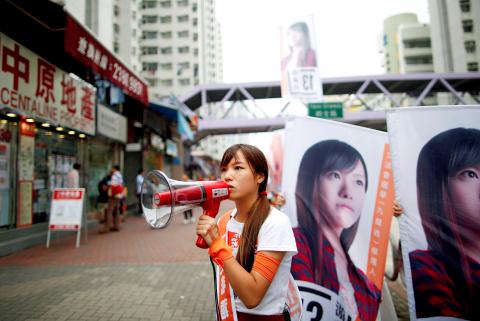 Candidate Yau Wai-ching, member of political group Youngspiration, campaigns in Hong Kong yesterday.
Photo: Reuters
Many of the newcomers back the previously unthinkable idea of independence for Hong Kong, which has added to divisions with the broader pro-democracy movement and overshadowed the election.
Hong Kongers feel they have few other negotiating tactics left in their battle for genuine democracy as Beijing takes an increasingly hard-line stance.
"It's bleak, but I think if China doesn't leave us to do what we want, I think the only way is to fight for independence," said Aron Yuen, a 34-year-old college lecturer, as he stood in a line of about 100 other people to cast their ballots.
"You can't negotiate with somebody who doesn't keep their promise," Yuen said.
He planned to vote for the 23-year-old Nathan Law (羅冠聰) who, along with teen activist Joshua Wong (黃之鋒), played a key role leading the 2014 protests. Their party, Demosisto, advocates a referendum on "self-determination" of Hong Kong's future.
At stake is the power to keep the territory's widely unpopular Beijing-backed chief executive, Leung Chun-ying (梁振英), and his government in check. "Pan-democrat" lawmakers control 27 of 70 seats, compared with 43 held by lawmakers friendly to Beijing.
The democrats are fighting to keep control of at least a third of the seats, which gives them veto power to block government attempts to enact unpopular legislation, such as Beijing's controversial election revamp that triggered the 2014 street protests.
Comments will be moderated. Keep comments relevant to the article. Remarks containing abusive and obscene language, personal attacks of any kind or promotion will be removed and the user banned. Final decision will be at the discretion of the Taipei Times.