Lin gives address to WHA
Minister of Health and Welfare Lin Tzou-yien (林奏延) yesterday gave a five-minute speech at the 69th World Health Assembly (WHA) in Geneva, Switzerland, addressing Taiwan's experiences in launching a national health insurance program, disease prevention and legislation for a better medical environment.
However, he used "Chinese Taipei" rather than "Taiwan" throughout his speech, and did not address the controversy over WHO Director-General Margaret Chan's (陳馮富珍) invitation to this year's WHA meeting, which mentioned Bejiing's "one China" principle.
He gave the speech in English, in an apparent bid to circumvent any effort by China to influence reporting on his comments.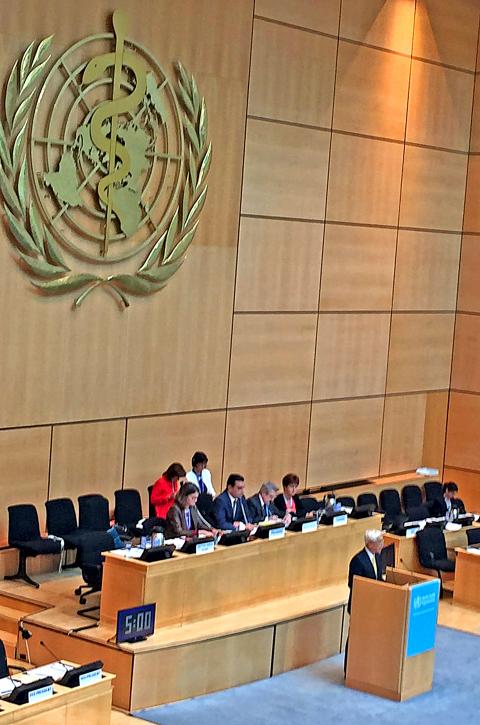 Minister of Health and Welfare Lin Tzou-yien yesterday delivers an address to the World Health Assembly at the Palais des Nations in Geneva, Switzerland.
Photo: CNA
Lin told the assembly that the National Health Insurance program has a coverage rate of 99.9 percent of the nation's population and a public satisfaction rate of more than 80 percent, while the nation's life expectancy was 80 years and the nation's infant mortality rate was 3.6 per 1,000 live births.
He also mentioned Taiwan's challenges of rapid population aging, overloaded healthcare workers and an increasing number of medical disputes; and how they are being dealt with by passing amendments to relevant laws.
Addressing Taiwan's effort to help prevent global spread of infectious diseases, Lin mentioned organizing international workshops to help improve regional capability for responding to Ebola, Middle East respiratory syndrome (MERS), dengue and the Zika virus.
"We hope to work even more closely with WHO and other international institutes to strengthen the global health security," he said.
Lin ended his speech by calling on the "WHO and its member states, to support the 23 million citizens of Chinese Taipei" by facilitating their robust participation in WHA-related meetings and activities.
"Then no one will be left behind," he said.
Democratic Progressive Party Legislator Tsai Shih-ying (蔡適應), who was in the audience, said he regretted that Lin did not use the name "Taiwan" in his speech.
In a Facebook post, New Party Power Legislator Freddy Lim (林昶佐), who is also in Geneva with Taiwan's delegation to the WHA, voiced his discontent with Lin's use of the term "Chinese Taipei."
"While several of our diplomatic allies have supported us by calling us 'Taiwan' rather than the downgraded name 'Chinese Taipei,' Lin called us by 'Chinese Taipei' throughout his speech. This is just so disappointing," Lim wrote. "Taiwan is Taiwan, not Chinese Taipei! They already gave you the microphone and allowed you to speak, and you still call yourself Chinese Taipei in an international meeting… It's so disappointing!"
The Ministry of Health and Welfare earlier yesterday said that the Taiwanese delegation had held bilateral talks with 40 countries and international organizations on the sidelines of the WHA, including one with US Secretary of Health and Human Services Sylvia Mathews Burwell.
During his meeting with Burwell, Lin expressed gratitude to the US for firmly supporting Taiwan's participation in the WHO, and urged the US to continue providing assistance in supporting the nation's bid to join in WHO's meetings, events and mechanisms, the ministry said.
They also discussed cooperation on Zika vaccination, the Global Health Security Agenda, obesity prevention, noncommunicable disease prevention and the hope that a partnership with the US can be long and stable, the ministry said.
The Centers for Diseases Control is to also share Taiwan's disease prevention experiences with a technical meeting at the WHA and voice the nation's willingness to join the WHO's Emergency Response Framework to support international society, the ministry said.
As the head of China's delegation, National Health and Family Planning Commission Chairperson Li Bin (李斌), left Geneva on Tuesday, it is unlikely that there would be sideline talks between Taiwan and China during the rest of the meeting, the ministry said.
Additional reporting by CNA
Comments will be moderated. Keep comments relevant to the article. Remarks containing abusive and obscene language, personal attacks of any kind or promotion will be removed and the user banned. Final decision will be at the discretion of the Taipei Times.