Tsai refers to 'Taiwanese government' in meeting with Palauan president
President Tsai Ing-wen (蔡英文) yesterday met with Palauan President Tommy Remengesau Jr in her first open meeting after assuming the presidency on Friday, departing from the customary appellation used by former president Ma Ying-jeou (馬英九) by referring to her administration as the "Taiwanese government."
Under Ma, public meetings with foreign dignitaries used the formal title of "Republic of China (ROC) government" when referring to Taiwan. While the word "Taiwan" was used sparingly, it was very rarely used in the context of the "Taiwanese government."
Tsai welcomed Remengesau, who was in Taiwan for Tsai's inauguration, and said that the two nations could cooperate on the issue of marine conservation.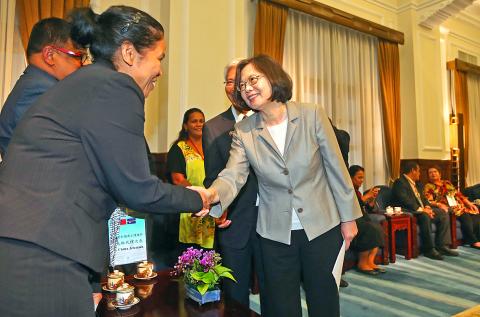 President Tsai Ing-wen shakes hands with Nauruan President Baron Waqa, left, and his wife during a meeting in Taipei yesterday.
Photo: CNA
When speaking on bilateral cooperation, Tsai used the term "we" and mentioned "the ROC."
She said Taiwan can learn from important environmental achievements during Remengesau's tenure, such as the Micronesian Center for a Sustainable Future and the Palau National Marine Sanctuary.
Meanwhile, Beijing yesterday warned Taiwan that it would cut off critical contacts if Tsai does not state her support for the "one China" framework.
The comments came a day after Tsai's inauguration speech, in which she called for "positive dialogue" with China, but stopped short of any compromise on Beijing's demands that she support its "one China" principle.
Beijing and Taipei have had regular, official communication since 2014, but that would stop unless Tsai acknowledges the so-called "1992 consensus," Xinhua news agency quoted China's Taiwan Affairs Office spokesman Ma Xiaoguang (馬曉光) as saying.
"The communication mechanism between the two departments can only continue if the 1992 consensus, which represents the common political foundation of the one China principle, is adhered to," he was quoted as saying.
In her speech, Tsai reiterated her stance of recognizing that a meeting took place between the Chinese Nationalist Party (KMT) and Chinese officials in 1992, but did not endorse it.
The "1992 consensus," a term former Mainland Affairs Council chairman Su Chi (蘇起) admitted making up in 2000, refers to a tacit understanding between the KMT and the Chinese government that both sides of the Strait acknowledge there is "one China," with each side having its own interpretation of what "China" means.
Comments will be moderated. Keep comments relevant to the article. Remarks containing abusive and obscene language, personal attacks of any kind or promotion will be removed and the user banned. Final decision will be at the discretion of the Taipei Times.