Transport systems disrupted
DISASTER RESPONSE: With thousands of passengers left stranded at high-speed rail stations, many said they were not unhappy, because delays were unavoidable
Transportation hubs across the nation were clogged with stranded passengers yesterday after a magnitude 6.4 earthquake shut down the southern half of the nation's high-speed rail system, forcing a scramble to mobilize additional standard trains and buses in a system already strained by people returning home for the Lunar New Year holiday.
High-speed rail lines south of Taichung were shut down early yesterday morning after a post-quake inspection found structural damage to the rail's electricity lines near Tainan, including fractured cantilevers, and multiple points of broken contact and insulation.
After repeated repair delays, the Taiwan High Speed Rail Corp (THSRC) at midday announced that the southern half of the line would be closed for the rest of the day, urging passengers bound for southern cities to use other modes of transportation to avoid overwhelming the Taichung high-speed rail station's transfer services.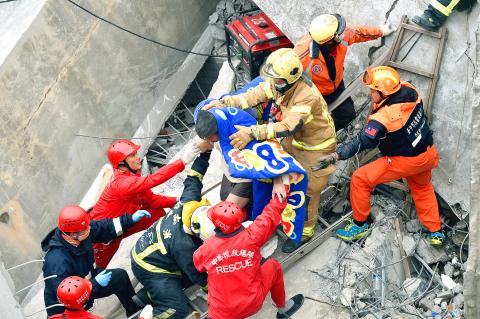 Firefighters and search-and-rescue team members help a survivor climb down from the ruins of the Weiguan Jinlong Building in Tainan's Yongkang District yesterday after it collapsed in an earthquake.
Photo: Chang Chung-i, Taipei Times
Special buses arranged by the Taichung City Government shuttled stranded passengers from the city's high-speed rail station to Chaoma Station to take intercity buses, with intercity bus operators increasing departure frequency to send off buses as soon as they filled in an effort to cope with the backlog.
Thousands of stranded northbound passengers also clogged Kaohsiung's Zuoying Station, with long lines of passengers waiting to claim ticket refunds as they called to check in with family and friends.
Despite having their itineraries delayed and transportation plans changed, many passengers said they had nothing to complain about, because they knew the changes were unavoidable.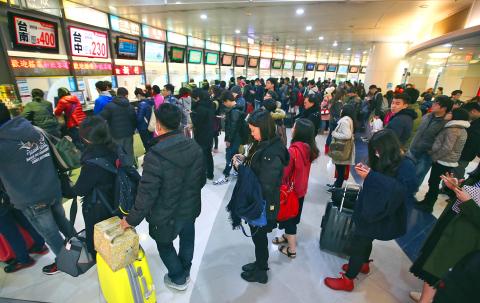 People line up to buy tickets at a freeway bus terminal in Taipei yesterday after high-speed rail services were suspended due to earthquakes in the south.
Photo: CNA
The THSRC has announced that tickets for canceled trains can be refunded any time within a year.
With ordinary train lines through the Zuoying Station continuing to operate, THSRC employees used signs to direct passengers to Taiwan Railways Administration (TRA) trains, with the company arranging for THRSC ticket holders to directly board the trains to expedite passenger transfers.
The TRA's Taichung Station also had long lines yesterday following news of the high-speed rail's closure, requiring increased police presence to maintain order.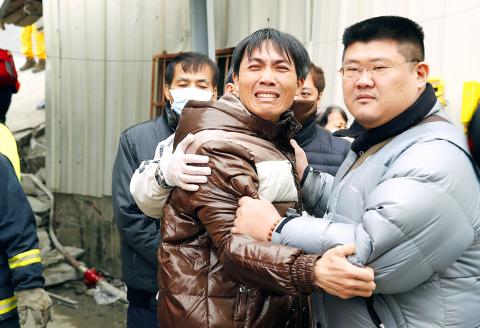 A man breaks down after seeing the body of a relative recovered from a collapsed building in Tainan on Saturday.
Photo: AP
Taichung Station Master Yeh Jen-ho (葉仁和) said that the TRA had arranged for 80 additional trains on top of extra trains already planned for the Lunar New Year rush.
Puyuma Express tilting trains were deployed along the full length of western routes for the first time as part of the effort, previously operating almost exclusively in the nation's east.
The TRA said track inspections delayed trains along stretches of its southern track by up to 50 minutes early yesterday morning, but operations had resumed by 9am after the agency verified that there was no substantial track damage.
The National Freeway Bureau denied rumors of major damage to southern stretches of several major highways, saying that inspections had found little damage.
The Civil Aeronautics Administration said that no airport operations have been affected by the earthquake.
The THSRC last night announced that high-speed train services south of Chiayi are to remain suspended before noon today, with intercity buses available to transport passengers from high-speed rail station in Chiayi to both Zuoying and Tainan stations. Whether high-speed rail services south of Chiayi are to resume this afternoon is to be announced this morning, it said.
Additional reporting by Kan Chih-chi, Yan Hung-jun, Lin Yan-tung, Chen Wen-chan and Hung Jui-chin
Comments will be moderated. Keep comments relevant to the article. Remarks containing abusive and obscene language, personal attacks of any kind or promotion will be removed and the user banned. Final decision will be at the discretion of the Taipei Times.