Japanese military on alert as activity suggests possible N Korea missile test
Japan has put its military on alert for a possible North Korean ballistic missile launch after indications that Pyongyang is preparing for a test firing, two people with direct knowledge of the order said yesterday.
"Increased activity at North Korea's missile site suggests that there may be a launch in the next few weeks," said one of the sources, both of whom declined to be identified, because they are not authorized to talk to the media.
Tension rose in East Asia this month after North Korea's fourth nuclear test, this time of what it said was a hydrogen bomb.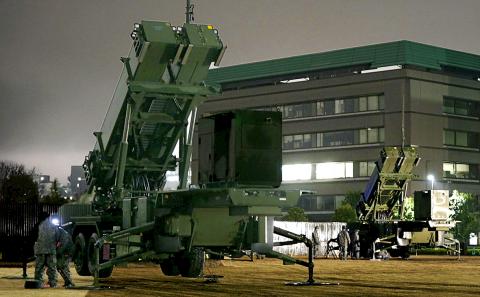 Units of Patriot Advanced Capability-3 (PAC-3) missiles stand at the Defence Ministry in Tokyo, Japan yesterday.
Photo: Reuters
A missile test coming so soon after the nuclear test would raise concerns that North Korea plans to fit nuclear warheads on its missiles, giving it the capability to launch a strike against South Korea, Japan and possibly targets as far away as the US west coast.
Japanese Minister of Defense Gen Nakatani has ordered Aegis destroyers that operate in the Sea of Japan to be ready to target any North Korean projectiles heading for Japan, the sources said.
A Ministry of Defense spokesman declined to say whether MIM-104 PAC-3 Patriot missile batteries and the Aegis destroyers had been deployed to respond to any threat from North Korea
The advanced Aegis vessels are able to track multiple targets and are armed with SM-3 missiles designed to destroy incoming warheads in space before they re-enter the atmosphere and fall to their targets.
Japan also has Patriot missile batteries around Tokyo and other sites to provide a last line of defense as warheads near the ground.
However, rather than a direct attack, Japan is more concerned that debris from a missile test could fall on its territory.
Meanwhile, South Korea yesterday indicated an increased willingness to host an advanced US anti-missile defense system as the activity detected at the North's missile site revived talk of deploying a system opposed by China and Russia.
US military officials have said the sophisticated system, called the Terminal High Altitude Area Defense (THAAD), was needed in South Korea, which faces the threat of an increasingly advanced North Korean missile program.
"If THAAD is deployed by the US military in [South] Korea, it will be helpful for our security and defense," South Korean Ministry of National Defense spokesman Kim Min-seok said.
Previously, South Korea was reluctant to openly discuss the possibility of the deployment, as it tried to walk a fine line between its closest ally, the US, and its biggest trade partner, China.
The US maintains 28,500 military personnel in the country, a legacy of the 1950-1953 Korean War, which ended in a truce and left the two Koreas in a technical state of war.
China is North Korea's major ally, but in recent years South Korea has forged increasingly strong ties with China.
"We believe that any country, when striving for its own security, should also consider other countries' security interests and regional peace and stability," Chinese Ministry of Foreign Affairs spokeswoman Hua Chunying (華春瑩) told a briefing when asked about the possibility of THAAD being deployed in South Korea.
The system has radar that can track multiple ballistic missiles up to 2,000km away, a range which would reach deep into China and Russia.
THAAD is built by Lockheed Martin, and costs an estimated US$829.2 million apiece. Some THAAD opponents in South Korea instead propose developing an indigenous missile defense system.
China and Russia, which are among the five international powers that have sought to negotiate with the North to persuade it to abandon its nuclear weapons, have spoken against stationing the THAAD system in South Korea.
Comments will be moderated. Keep comments relevant to the article. Remarks containing abusive and obscene language, personal attacks of any kind or promotion will be removed and the user banned. Final decision will be at the discretion of the Taipei Times.