DPP nominates Su for speaker
'A SIMPLE CONCLUSION': Ker Chien-ming and Chen Ming-wen opted not to contest the position, in the name of party unity, while Tsai Ing-wen denied that was her doing
Democratic Progressive Party (DPP) legislator-elect Su Jia-chyuan (蘇嘉全) is likely to become the nation's first non-Chinese Nationalist Party (KMT) legislative speaker on Monday, as the DPP caucus yesterday nominated him for the post.
DPP caucus whip Ker Chien-ming (柯建銘), Legislator Chen Ming-wen (陳明文) and Su had all been interested in running for the speakership, and a vote within the caucus was planned to select a candidate during yesterday morning's meeting.
However, before the meeting was to begin at 9am, Ker appeared outside the meeting room, along with Chen and Su, all three smiling.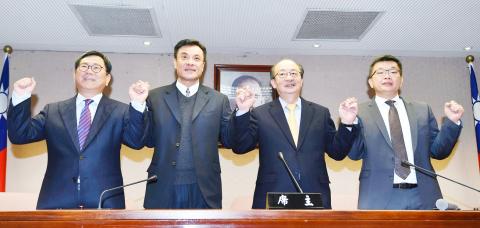 Democratic Progressive Party (DPP) Legislator Chen Ming-wen, left, and DPP caucus whip Ker Chien-ming, second right, present legislator-elect Su Jia-chyuan, second left, as the party's candidate for legislative speaker and Tsai Chi-chang as candidate for deputy speaker at a news conference in Taipei yesterday.
Photo: Fang Pin-chao, Taipei Times
"I think it is easiest [to solve the issue] if we three talk among ourselves," Ker said. "We have reached a simple conclusion: to support Su as the party's candidate for legislative speaker."
Ker said he is confident that when Su is elected speaker, he will be able to keep the legislature running smoothly, leaving president-elect Tsai Ing-wen (蔡英文) worry-free.
When asked about rumors that he had said he would rather die than withdraw from the speaker election, Ker denied ever making such a remark.
Ker declined to discuss whether he would continue to serve as caucus whip.
The caucus unanimously passed nomination of Su as the DPP's speaker candidate and the nomination of DPP Legislator Tsai Chi-chang (蔡其昌) as deputy speaker candidate.
With an absolute majority of 68 seats, accounting for 60.1 percent of the legislature, the DPP's candidates are almost certain to win the speakership and deputy speakership.
Ker said he had a sleepless night as negotiations between himself, Su and Chen Ming-wen hosted by Kaohsiung Mayor Chen Chu (陳菊) at DPP headquarters in Taipei on Thursday failed to generate any concrete results.
"So I called Chen and Su at 7am and asked them to come to my office to discuss the issue," Ker said.
"We started our meeting at 8am and, after some discussion, we felt we should try to maintain harmony within the party, and should not disappoint the people, nor force the party's central leadership to intervene in the speaker election, and reached our decision," Ker added.
On a trip to thank her supporters in Yunlin and Chiayi counties, Tsai Ing-wen welcomed the decision, while denying she had talked Ker out of the race.
"I am happy our caucus members were able to negotiate among themselves to smoothly work out candidates for legislative speaker and deputy speaker," she said.
"I hope that in the future, we can integrate different opinions within the party on important issues to start the reform agenda as soon as possible, based on the values of solidarity and reform," she added.
Tsai Ing-wen denied that she had overridden the will of the caucus, as there had been speculation that she preferred Su to serve as speaker.
She said she had merely "reminded" the caucus about the public's expectations.
Comments will be moderated. Keep comments relevant to the article. Remarks containing abusive and obscene language, personal attacks of any kind or promotion will be removed and the user banned. Final decision will be at the discretion of the Taipei Times.