Washington 'disappointed' with Ma's decision
The US Department of State on Wednesday said it was "frankly disappointed" with President Ma Ying-jeou's (馬英九) decision to visit Itu Aba Island (Taiping Island, 太平島).
The relatively strong diplomatic reaction was given by spokesman Mark Toner at a regularly scheduled news briefing.
"We view such an action as unhelpful" and it would not contribute to the peaceful resolution of disputes in the South China Sea, he said.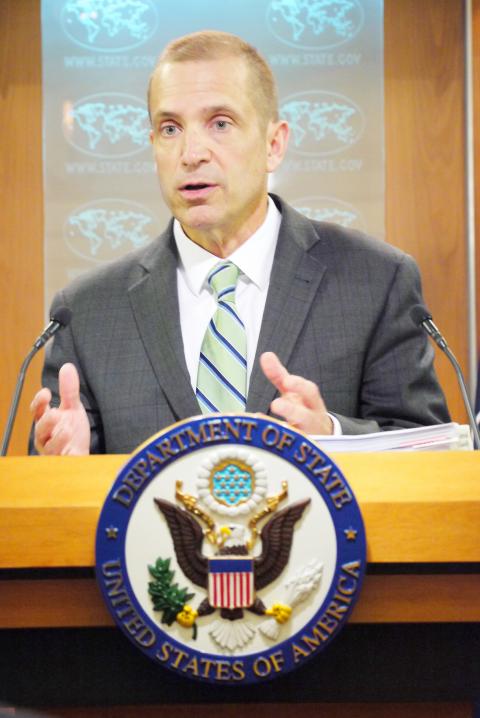 US Department of State spokesman Mark Toner on Wednesday in Washington said the US was disappointed by President Ma Ying-jeou's decision to visit Itu Aba Island in the South China Sea.
Photo: CNA
"We urge Taiwan and all claimants to lower tensions, to de-
escalate tensions, rather than take actions that could possibly raise them," Toner added.
In response to questions from the Taiwanese press, Toner said that the US had been very clear about its disagreement with China building structures on South China Sea islands.
"We want to see a halt among all claimants to further land reclamation, construction of new facilities and militarization of outposts," which would help lower tensions and create space for peaceful resolution, he said.
Asked if Ma's trip would harm US-Taiwan relations, Toner said: "We have very strong relations with Taiwan, but sometimes we disagree on their actions."
Toner said the US was committed to a "one China" policy and looked forward to working with president-elect Tsai Ing-wen (蔡英文) and building stronger relations with Taiwan, but "we disagree on this particular act."
Toner was asked why Ma could not visit an island that Taiwan had occupied for decades and why Taiwan was not included in diplomatic discussions about the South China Sea.
"I can't speak to whether we would invite Taiwan to take part in diplomatic conversations," he said.
Ma had "every right" to make his position clear on the South China Sea, Toner said, adding: "We just disagree with this particular action. We view it as frankly raising tensions rather than what we want to see which is de-escalation. We want to see dialogue and welcome all voices in the region weighing in on that dialogue and it is only through a diplomatic mechanism that we can successfully resolve the South China Sea."
He said that Taiwan is a valued partner and Washington would "continue to listen to their concerns and reflect their concerns."
Richard Fisher, a senior fellow at the International Assessment and Strategy Center in Alexandria, Virginia, said the US statements sounded like Washington was "throwing Taiwan into the same category of aggressor as China."
"This may be an attempt to appear neutral and to respond to Chinese criticism that Washington is always bashing China. But criticizing Taiwan will not result in China ceasing its military base building or prevent the likelihood that it will attack other islands and turn them into Chinese military bases as well," he said
Fisher said Taiwan had sought to differentiate its methods and objectives from China.
"It is China which is clearly seeking to obtain near total control of the South China Sea, build the capability to choke off one of the world's most important maritime commercial life lines, isolate US allies in Asia and increase its ability to threaten Taiwan," he said.
Comments will be moderated. Keep comments relevant to the article. Remarks containing abusive and obscene language, personal attacks of any kind or promotion will be removed and the user banned. Final decision will be at the discretion of the Taipei Times.