US Navy admiral warns of arms race in South China Sea
The US Pacific Fleet commander has warned of a possible arms race in the disputed South China Sea which could engulf the region, as nations become increasingly tempted to use military force to settle territorial spats instead of international law.
US Navy Commander Admiral Scott Swift urged nations, such as China, to seek arbitration to settle maritime disputes.
"My concern is that after many decades of peace and prosperity, we may be seeing the leading edge of a return of 'might makes it right' to the region," Swift said on Monday in a speech in Hawaii, according to a copy seen by reporters.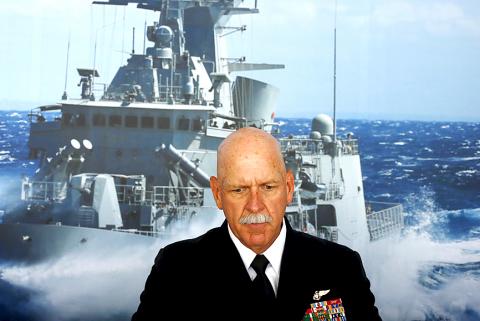 US Pacific Fleet commander Admiral Scott Swift sits in front of a large poster of an Australian Navy frigate during a news conference at the Pacific International Maritime Exposition in Sydney on Oct. 6.
Photo: Reuters
"Claimants and non-claimants alike are transferring larger shares of national wealth to develop more capable naval forces beyond what is needed merely for self-defense," Swift said.
Asked about Swift's comments, Chinese Ministry of Foreign Affairs spokesman Hong Lei (洪磊) said: "Certain countries are exaggerating tensions in the South China Sea region, which is in reality to create confusion and meddle in the South China Sea. China is resolutely opposed to this."
China's Ministry of National Defense said certain countries were conducting "a big show of force" in the South China Sea.
"At the same time, [they are] wantonly expressing remarks to create tensions, in an attempt to sow confusion and muddy the waters," the ministry said in a faxed statement.
China claims most of the South China Sea, through which more than US$5 trillion of world trade ships every year. Taiwan, the Philippines, Vietnam, Malaysia and Brunei also claim parts of the sea.
Beijing is building seven man-made islands on reefs in the Spratly Islands (Nansha Islands, 南沙群島), including a 3km long airstrip on one of the sites, according to satellite imagery of the area.
"Even now, ships and aircraft operating nearby these features, in accordance with international law are subject to superfluous warnings that threaten routine commercial and military operations," Swift said, speaking at the Cooperative Strategy Forum to naval commanders from Japan, the Philippines, Indonesia and other countries.
A Chinese naval fleet is currently visiting Hawaii, including a destroyer and a frigate, according to defense ministry.
In October, a US guided missile destroyer sailed close to one of China's artificial islands, drawing an angry rebuke from Beijing and a shadowing patrol.
Comments will be moderated. Keep comments relevant to the article. Remarks containing abusive and obscene language, personal attacks of any kind or promotion will be removed and the user banned. Final decision will be at the discretion of the Taipei Times.