DPP condemns Chinese ambassador to the US
JOB INTERVIEW? Ambassador Cui Tiankai said Tsai Ing-wen first has to pass the test of the 1.3 billion Chinese and he wondered why she would talk to foreigners, but not directly to her compatriots on the other side of the Taiwan Strait
The Democratic Progressive Party (DPP) yesterday condemned Chinese Ambassador to the US Cui Tiankai (崔天凱) for calling DPP Chairperson Tsai Ing-wen's (蔡英文) visit to the US a "job interview," adding that his call for Tsai to be interviewed by China was rude and would not help to improve cross-strait relations.
"Chairperson Tsai has made it very clear in her commentary piece in the Wall Street Journal yesterday that maintaining stable and sustainable developments in cross-strait relations are important objectives," DPP Department of China Affairs director Chao Tien-lin (趙天麟) told a news conference at DPP headquarters in Taipei. "We hope to create transparent channels of communication between the DPP and Beijing, as well as between the party and the public to strengthen mutual trust and cooperation across the Taiwan Strait, and to maintain peace and stability through exchanges, cooperation and dialogue in accordance with our principles."
Chao said DPP presidential candidate Tsai has stressed that the visit is not a "job interview," but to deliver the message that Taiwan and the US both believe in the universal values of democracy, freedom and human rights.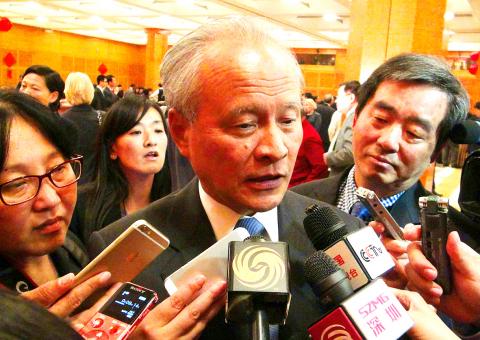 Chinese Ambassador to the US Cui Tiankai comments on Democratic Progressive Party Chairperson Tsai Ing-wen's visit in Washington on Tuesday.
Photo: CNA
"Cui has not only intentionally twisted [Tsai's intentions], but he arrogantly considers China as some sort of 'heavenly court,' asking Tsai to be tested by all Chinese," Chao said. "This rude language is shocking and it does not help to improve mutual understanding and communication across the Taiwan Strait."
Chao urged direct dialogue, adding that Beijing should refrain from making deals behind closed doors, while refusing any goodwill from the DPP.
Noting that some people have said Tsai's visit to the US is aimed at soliciting Washington's support ahead of January's presidential election, Cui had said he wondered why she would talk to foreigners, but not directly to her compatriots on the other side of the Taiwan Strait.
"She first has to pass the test of the 1.3 billion Chinese," Cui said.
Tsai should also state clearly whether she accepts the "one China" principle and should leave no ambiguity about that point, he said.
Cui said that China has been vigilant against activities to push for Taiwanese independence and there is no room for ambiguity when it comes to the "one China" principle.
"We have made it clear to the US that China is opposed to any activities related to Taiwan independence staged in the US and oppose the US giving a stage to such activities," he said.
Additional reporting by CNA
Comments will be moderated. Keep comments relevant to the article. Remarks containing abusive and obscene language, personal attacks of any kind or promotion will be removed and the user banned. Final decision will be at the discretion of the Taipei Times.