US military unveils Cicada mini-drones for remote warfare
US military scientists have invented a miniature drone that fits in the palm of a hand, ready to be dropped from the sky like a mobile phone with wings.
The "micro air vehicle" is named after the insect that inspired its invention, the cicada, which spends years underground before appearing in great swarms, reproducing and then dropping to the ground dead.
"The idea was: Why can't we make UAVs [uncrewed aerial vehicles] that have the same sort of profile," US Naval Research Laboratory flight controls engineer Aaron Kahn told reporters. "We will put so many out there, it will be impossible for the enemy to pick them all up."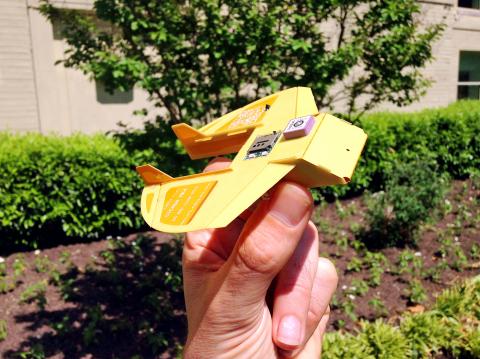 A man holds a Cicada, a miniature drone invented by US military scientists, outside the Pentagon in Washington on Thursday.
Photo: AFP
The "Cicada" — short for covert autonomous disposable aircraft — was designed to be smaller, cheaper and simpler than any other robotic aircraft, but still able to carry out a mission in a remote battlefield.
The prototype cost just US$1,000 and the cost could come down to as little as US$250 per unit, Kahn said.
With no motor and about 10 parts, the Cicada resembles a paper airplane with a circuit board.
It is designed to glide to programmed GPS coordinates after being dropped from an aircraft, a balloon or a larger drone, researchers said.
In a test about three years ago in Yuma, Arizona, Cicada drones were released from 17,500m. The drones flew — or fell — 18km, landing within 5m of their target.
The Cicada can fly at 74kph per hour and are virtually silent, with no engine or propulsion system.
"It looks like a bird flying down," Naval Research Laboratory aerospace engineer Daniel Edwards said. "[However,] it's very difficult to see."
In the flight test, the Cicada had sensors that could send back readings for temperature, air pressure and humidity.
Researchers said the mini-drones could be used for a myriad of missions.
"They are robotic carrier pigeons. You tell them where to go and they will go there," Edwards said.
Comments will be moderated. Keep comments relevant to the article. Remarks containing abusive and obscene language, personal attacks of any kind or promotion will be removed and the user banned. Final decision will be at the discretion of the Taipei Times.