KMT nominations close without Chu
SEEKING UNITY: The party chairman said he is determined to lead the party to follow its doctrines, attain party unity and pursue peace in dealings across the Taiwan Strait
The 27-day period for aspirants for the Chinese Nationalist Party's (KMT) presidential nominee primary to pick up registration forms closed yesterday, with none of the applicants perceived as a strong candidate, leaving the embattled party languishing over its possibilities for the election next year.
KMT Chairman Eric Chu (朱立倫), considered most likely to be competitive against Democratic Progressive Party (DPP) presidential nominee Tsai Ing-wen (蔡英文), yesterday stood by pledges that he would not seek a spot in the primary.
"I came under more pressure because I do not want to run than I would have faced had I put my name forward," Chu told a news conference at KMT headquarters in Taipei.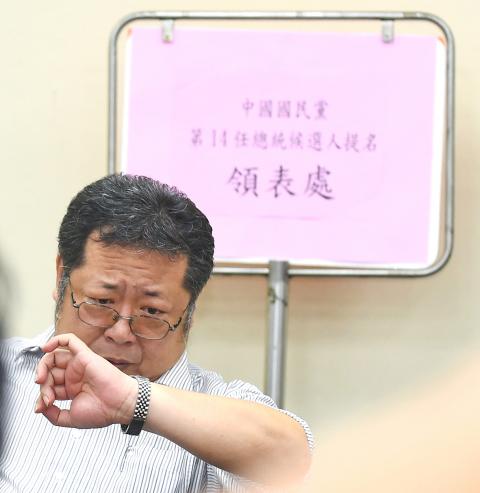 A staff member at Chinese Nationalist Party (KMT) headquarters in Taipei yesterday looks at his watch as the deadline approaches for registering for the party's presidential primary process.
Photo: Liu Hsin-de, Taipei Times
"However, I know exactly what motivated me [to make the decision]," he said.
After the deadline for applications passed at 4pm, Chu read a statement in which he repeatedly said he set himself two goals during his chairmanship: To help the party adhere to its "central doctrines" and to bring genuine unity within the party.
"The KMT can afford to lose an election, but we cannot afford to lose an entire generation," he said. "The KMT can afford to lose votes, but it cannot afford to lose its central doctrines."
"No one is able to unite the party," he said. "Only the party's central doctrines — which need to be shared by all members — are capable of that."
Chu said he is determined to lead the party to follow its doctrines, promising to pursue peace and a win-win situation in cross-strait relations without fearing being "painted red" by associating with the Chinese Communist Party.
He also promised the party would take care of workers and implement tax increases even though doing so would displease conglomerates and voters.
Drawing on the Buddhist concept of "no ego," Chu said that his sole point of concern is how to get the KMT back on its feet as a united party.
Chu said he would resign as party chairman if the KMT loses the presidential election, dismissing speculation that he decided to stay out of the race because the party is considered to have little chance of winning.
"I would not have taken up the chairmanship if I thought like that," said Chu, who was the sole nominee for the position after President Ma Ying-jeou (馬英九) resigned following the party's defeat in last year's nine-in-one elections.
Part of Chu's statement was apparently in response to an interview with Ma published in yesterday's Chinese-language Apple Daily, in which the president repeatedly urged Chu to run for the nation's top job.
"As party chairman, [Chu] is duty bound to seek out a candidate," Ma said in the interview.
"If he can not find one and he is well qualified for the job, he should not deny his responsibility," Ma was quoted by the Apple Daily as saying.
Ma said he would have run if he were Chu, just as he eventually answered calls to run for mayor of Taipei in 1998 against then-Taipei mayor Chen Shui-bian (陳水扁), who Ma said was expected to easily win re-election.
"When the party faces [a tough] situation similar to that [in 1998], everyone should treat their personal considerations as the least of their concerns," Ma said.
Chu said he had spent a lot of effort over the past few months on talking people into putting their name forward for the presidential primary, but to no avail.
"Let me tell you, people you can think of and people you cannot think of; people you know and people you do not know — a lot of effort has been put in," Chu said.
"Out of respect for the people concerned, I cannot tell you who they are," Chu said.
Chu said that the KMT would decide on its presidential candidate in accordance with its primary system, adding that part of his effort has been to ensure that the party holds to the bedrock of the rule of law.
According to the KMT's rules, from Tuesday through Sunday next week, the party is to verify the authenticity of signatures collected by Legislative Deputy Speaker Hung Hsiu-chu (洪秀柱), former health minister Yaung Chih-liang (楊志良) and Huang Po-shou (黃柏壽), a novice in politics — who all picked up registration forms — to determine whether they are qualified to run in the primary.
Results of the verification process are to be released on May 25.
If only one of the three exceeds the threshold of at least 15,000 signatures from party members, the hopeful can win the party's nomination if they then gain more than 30 percent support in an opinion poll.
The primary winner is decided through telephone surveys and a vote among party members weighted at 70 percent and 30 percent respectively.
If none of the three win more than 30 percent support, the party could invoke a draft to select a candidate outside of those who registered for the primary.
Comments will be moderated. Keep comments relevant to the article. Remarks containing abusive and obscene language, personal attacks of any kind or promotion will be removed and the user banned. Final decision will be at the discretion of the Taipei Times.