Ma spokesman urges Ko to put his job on line
Presidential Office spokesperson Charles Chen (陳以信) yesterday again took on Taipei Mayor Ko Wen-je (柯文哲) over the city government's recent allegations against President Ma Ying-jeou (馬英九) about the Taipei Dome project.
If Ko really thinks that Ma was involved in any irregularities in the project, Ko should put Ma under judicial investigation as quickly as possible to allow the case to be probed in a fair, just and legal manner, Chen said.
"Ko in the meantime should promise to city residents that he will take political and legal responsibility if Ma is proven not guilty," he added.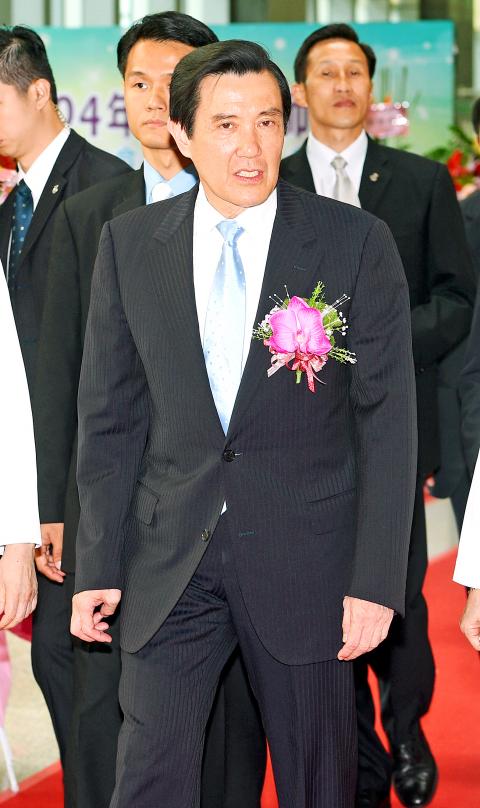 President Ma Ying-jeou attends the Taiwan Union of Nurses' Associations' annual celebration yesterday afternoon in Taipei. When leaving the venue, Ma did not respond to reporters' questions regarding Taipei Mayor Ko Wen-je's investigation into the Taipei Dome case.
Photo: Lo Pei-der, Taipei Times
Chen on Saturday dared Ko to put his career on the line if the city government reported Ma and former Taipei Department of Finance commissioner Lee Sush-der (李述德) to the Ministry of Justice in line with recommendations made by the Taipei Clean Government Committee.
The Taipei Clean Government Committee on Friday last week said that it had found that the city government during Ma's tenure as Taipei mayor had enabled illegal profiteering by Farglory Land Development Co (遠雄建設) in the construction of the Taipei Dome.
Ko said he has not yet decided whether the city government would act on the recommendations of the committee, because he has concerns over the committee giving "default judgement" in the absence of Ma.
Taipei's Department of Government Ethics has prepared a letter for Ma inviting him to appear before the committee to explain the case or respond to the accusations against him in writing, officials said.
Department of Government Ethics Commissioner Liu Ming-wu (劉明武) said the committee would submit the recommendations to Ko for his review after it receives Ma's response.
Additional reporting by Kao An-chia
Comments will be moderated. Keep comments relevant to the article. Remarks containing abusive and obscene language, personal attacks of any kind or promotion will be removed and the user banned. Final decision will be at the discretion of the Taipei Times.