DPP slams Chu's 'consensus' talk
Chinese Nationalist Party (KMT) Chairman Eric Chu's (朱立倫) remark yesterday that "both sides of the Taiwan Strait belong to one China" has surpassed President Ma Ying-jeou (馬英九) in courting China by recasting the so-called "1992 consensus" under Beijing's "one China" framework, the Democratic Progressive Party (DPP) said.
The "1992 consensus" refers to an alleged understanding between the KMT and the Chinese Communist Party (CCP) that Taiwan and China acknowledge there is "one China," with each side having its own interpretation of what that means.
In opening remarks in a meeting with Chinese President Xi Jinping (習近平) in Beijing, Chu described the "1992 consensus" by saying that both sides "belong to 'one China,' but with each side ascribing different contents and definitions to the concept of 'one China.'"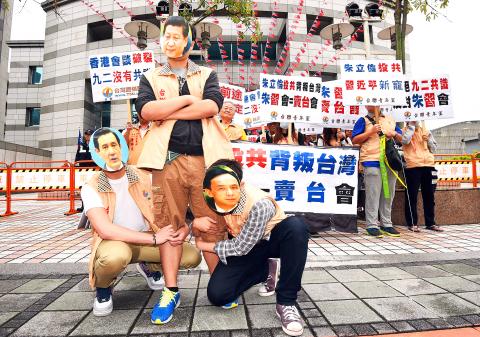 Members of the Taiwan Solidarity Union youth wing perform a skit in front of Chinese Nationalist Party (KMT) headquarters in Taipei yesterday to protest against the meeting between KMT Chairman Eric Chu and Chinese President Xi Jinping.
Photo: Lo Pei-der, Taipei Times
Calling Chu's remark a revision of Ma's China policy refashioned under Beijing's "one China" principle, DPP Department of Chinese Affairs director Chao Tien-lin (趙天麟) said Chu has made concessions on Taiwanese sovereignty by acknowledging China's assertion.
Chu's previous pledges to renew the commitments reached in 2005 by former KMT chairman Lien Chan (連戰) and then-CCP general secretary Hu Jintao (胡錦濤) indicates that Chu would handle cross-strait relations under the KMT-CCP framework, Chao added.
Chu is set to place Taiwan under the KMT's rule by infusing cross-strait relations with deepened KMT-CCP relations, Chao said, adding that it is highly likely that Chu would echo China's policies and proceed to initiate a "peace agreement" with China under the "one China" framework.
The DPP considers Chu's plan to build Taiwan's global presence on the foundation of the "1992 consensus" to be a departure from the principle of Taiwanese sovereignty that has been supported by the ruling and opposition parties, Chao added.
"To frame Taiwan's international participation under the '1992 consensus' or 'one China' policy is to compress the already limited Taiwanese presence in the international community," Chao said.
Chao said that peace, stability and prosperity are the shared aspirations of people on both sides of the Taiwan Strait, but Taiwanese have expressed concern over the Ma administration's placement of cross-strait relations on a KMT-CCP footing, while Chu has deepened the public's anxiety by further limiting Taiwan's development and even infringing on the nation's sovereignty.
Meanwhile, saying that China has used the "1992 consensus" as a "device of inhibition" on Ma, Taiwan Solidarity Union Chairman Huang Kun-huei (黃昆輝) yesterday said Chu has fallen into the same trap by embracing the "1992 consensus," which reconfirms that Chu cannot steer away from Ma's pro-China policy nor help the nation escape KMT-CCP politics.
The KMT-CCP forum has proved that the KMT is essentially working in unison with the CCP, even with Chu succeeding Ma as KMT chairman, he said.
The "policy advice" generated in the forum is an attempt to subjugate Taiwanese under the KMT-CPP framework, Huang said, adding that no interparty agreement should become a nation's official policy without going through a democratic and transparent process.
That the KMT is unable to deal with domestic affairs without the aid of a foreign party is a national embarrassment, which foreshadows the unavoidable demise of the KMT in the near future, Huang added.
Comments will be moderated. Keep comments relevant to the article. Remarks containing abusive and obscene language, personal attacks of any kind or promotion will be removed and the user banned. Final decision will be at the discretion of the Taipei Times.