Prosecutors call for Tainan vote-buying detentions
Tainan prosecutors yesterday requested the detention of Tainan City Council Speaker Lee Chuan-chiao (李全教), of the Chinese Nationalist Party (KMT), and three others, as prosecutors said there was solid evidence of their involvement in vote-buying in last year's speaker election.
Tainan Chief Prosecutor Chen Chien-hung (陳建弘) yesterday morning said that three or four months ahead of the election, Lee had promised several city councilor candidates that he would pay for their votes in the speakership election on Dec. 25 last year. Chen added that the amount Lee offered was between NT$300,000 and NT$10 million (US$9,506 and US$316,857).
The detention hearing began at 6pm. The hearing was ongoing as of press time last night.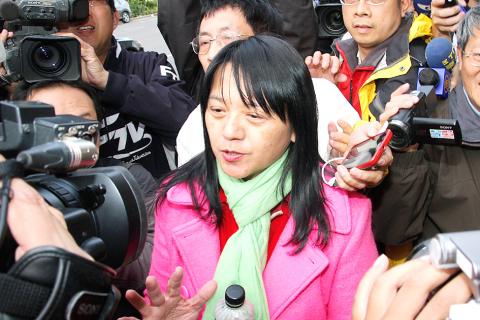 Democratic Progressive Party Tainan City Councilor Tseng Wang Ya-yun talks to the media on leaving the Tainan District Prosecutors' Office yesterday morning.
Photo: CNA
Following a long investigation, a total of 19 people, including suspected accomplices and witnesses, were on Sunday summoned for questioning that lasted until midnight. Prosecutors conducted raids at 47 sites earlier that day, the Tainan District Prosecutors' Office said.
Lee was intercepted on Sunday afternoon at Tainan Airport, where he was about to fly to Xiamen, China, via Kinmen and was taken to the speaker's office, where a search was being carried out and then to the prosecutors' office for questioning, the office said.
Among the 19 people questioned were five city councilors, including Tsai Chiu-lan (蔡秋蘭), Chuang Yu-chu (莊玉珠), Tseng Wang Ya-yun (曾王雅雲) and Liang Shun-fa (梁順發) — who were expelled from the Democratic Progressive Party (DPP) on suspicion of voting for Lee in the speakership election in return for money — as well as independent Chao Kun-yuan (趙昆原).
Tsai, Liang and Chao were released without bail early yesterday morning, while bail of NT$300,000 and NT$500,000 was set for Chuang and Tseng Wang respectively, the prosecutors' office said.
Two other suspects, Pan Hsin-chuan (潘新傳), a Tainan DPP official, and Sung Wei-ju (宋偉儒), the head of the Rende District (仁德) Farmers' Association, were both released on NT$200,000 bail, the prosecutors' office said.
The prosecutors also requested the detention of Chuang's husband, Tsai Chi-hsin (蔡啟新); Lin Tsung-pin (林聰彬), a vote broker affiliated with the KMT; and Yang Ming-ta (楊明達), a former city councilor.
Chen said the evidence the office had collected suggested that Lee, Tsai Chi-hsin, Lin and Yang were "highly involved" in violations of Article 100 of the Civil Servants Election and Recall Act (公職人員選舉罷免法), which bans offering payoffs and delivery of bribes or other undue benefits in elections.
Prosecutors sought the group's detention to prevent them from absconding, colluding or destroying evidence, Chen said.
Earlier yesterday, KMT Chairman Eric Chu (朱立倫) said in response to the latest developments in the case that he respected the judicial process.
Chu said he believed the judiciary would not do wrong by Lee, nor would it be too lenient, because it is a mature system.
However, an association of Lee's supporters later yesterday said in a statement that the prosecutors' probe into the case was "tinged with politics."
The purpose of Lee's trip to China was to serve as a witness at a friend's wedding, and he had booked a return flight on Uni Air (立榮航空) from Kinmen to Tainan for this afternoon, the statement said, dismissing reports suggesting he planned to flee to China.
Allegations of vote-buying against Lee emerged after he was elected as council speaker by a vote of 29 to 26, defeating the DPP's Lai Mei-hui (賴美惠) in the 57-seat city council where the DPP holds a majority of 28 seats, the KMT 16 and the Taiwan Solidarity Union one, with the remaining 12 held by independents.
Tainan prosecutors indicted Lee and four others on suspicion of involvement in vote-buying after his election in last year's Nov. 29 elections, seeking to nullify his victory.
Comments will be moderated. Keep comments relevant to the article. Remarks containing abusive and obscene language, personal attacks of any kind or promotion will be removed and the user banned. Final decision will be at the discretion of the Taipei Times.