Five indicted on vote-buying charges
Tainan prosecutors yesterday indicted five people on suspicion of involvement in an alleged vote-buying scheme centered on Tainan City Council Speaker Lee Chuan-chiao (李全教), of the Chinese Nationalist Party (KMT), after they sought to nullify his election victory last month.
In a separate case, Tainan City Council Deputy Speaker Kuo Hsin-liang (郭信良), of the Democratic Progressive Party (DPP), was also indicted yesterday. Kuo was charged with using his position as deputy speaker in 2012 to extort bribes from a steel firm.
In the case of Lee, Huang Cheng-ching (黃澄清), the head of the Farmers' Association in Yuching District (玉井), who campaigned for Lee as his chief executive; Lee Li-hua (李麗華), who was elected as borough warden; and Kang Ching-liang (康清良) were charged with involvement in the vote-buying scheme, while two others were also accused of accepting money from Kang for their vote.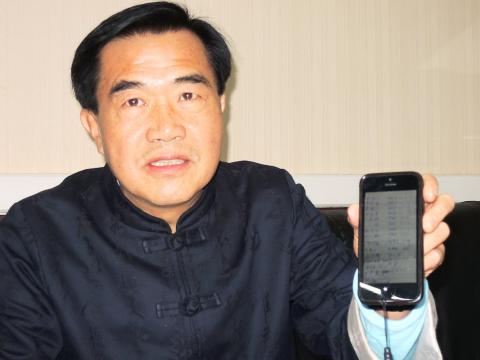 Tainan City Council Speaker Lee Chuan-chiao displays his smartphone to reporters in Greater Tainan yesterday to show he did not know the people involved in the vote-buying and bribery case in which he was indicted yesterday.
Photo: Tsai Wen-chu, Taipei Times
Lee Li-hua was allegedly given NT$300,000 (US$9,573) in August last year by Huang after she was promised NT$5,000 per household in her borough as bribes for votes. Huang then commissioned Kang to give out the money, Prosecutor Huang Hsin-yung (黃信勇) said.
Nine other voters investigated in the case did not face charges, or were put on probation because they either refused financial offers or admitted accepting money in return for their vote, according to Tainan District Prosecutors' Office.
In the case of Kuo, prosecutors said that Kuo had demanded NT$12 million from Quintain Steel Co (官田鋼鐵) when the firm's plan to expand its plant met with opposition from residents and was undergoing an environmental impact assessment review at the city's Environmental Protection Bureau in 2012.
Kuo advised Quintain Steel to withdraw its application and file for a retrial, as he said that he could peddle his influence among the anti-Quintain Steel groups and officials at the Environmental Protection Bureau to help it secure approval of the environmental impact assessment for the expansion project, prosecutors said.
Quintain Steel paid Kuo NT$7 million before its environmental impact assessment report was disapproved, prosecutors said, adding that the prosecutors' office dismissed as false Kuo's statement that the money was a loan.
Prosecutors said they found that Kuo was involved in another fraud case in 2007 in which he swindled Tungsheng Construction Co (東昇營造) out of NT$2 million.
In response to the indictments, Lee Chuan-chiao issued a statement claiming his innocence, saying that he was elected without having to resort to vote-buying tactics because his constituency was a pan-blue stronghold.
Lee Chuan-chiao accused the Tainan District Prosecutors' Office of dancing to the tune of Greater Tainan Mayor William Lai (賴清德). Lai said that Lee Chuan-chiao provided five DPP city councilors with money to secure his speakership in the speaker election on Dec. 25 last year, when the DPP controlled 29 of 57 seats.
Kuo also claimed his innocence, saying that the prosecutors' office indicted him on "trumped-up charges" under pressure from the KMT, which has launched countermeasures against prosecutors in the legislature by its lawmakers threatening to freeze the office's funding and refer prosecutors to the Control Yuan for investigation.
Meanwhile, DPP spokesperson Cheng Yun-peng (鄭運鵬) yesterday urged the judiciary to be fair.
Cheng said that in light of the indictment, Kuo will be referred to the party's Disciplinary Committee, which is scheduled to meet tomorrow, and which will launch its own investigation.
If the allegations are proven to be true, under party regulations, Kuo could see his party rights suspended or be expelled from the DPP.
Additional reporting by Loa Iok-sin
Comments will be moderated. Keep comments relevant to the article. Remarks containing abusive and obscene language, personal attacks of any kind or promotion will be removed and the user banned. Final decision will be at the discretion of the Taipei Times.