Defense ministry being shuffled after 'resignation'
The top hierarchy at the Ministry of National Defense is undergoing a big shake-up, with President Ma Ying-jeou (馬英九) said to be closely involved in the changes and promotions at the highest levels of the nation's armed forces.
Local media reports said that Minister of National Defense Yen Ming (嚴明) has already tendered his resignation to the president, with his post likely to be filled by Chief of General Staff Admiral Kao Kuang-chi (高廣圻).
Kao had previously served as deputy minister of defense, and his post is expected to be filled by Army Commander General Yen Teh-fa (嚴德發).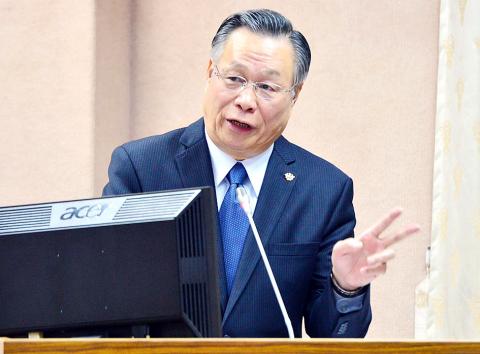 Minister of National Defense Yen Ming speaks at a meeting of the Foreign and National Defense Committee at the legislature in Taipei on Monday.
Photo: Wang Yi-sung, Taipei Times
Deputy Minister of National Defense General Chiu Kuo-cheng (邱國正) is expected to take over the post of army commander.
According to the Chinese-
language United Evening News and online news agency Storm Media, while Yen Ming has tendered his resignation, the president has urged him to stay on for the time being. However, if he sticks to his decision to leave, top hierarchy changes at the ministry could be imminent — as early as within the next few weeks.
Military sources said that Ma had asked Yen Ming to remain in his post at least until the end of March, when Kao is scheduled to retire from active service in the navy and would then be ready to take over as head of the defense ministry.
Rumors of Yen Ming's possible resignation were rife among senior military officials over the past two weeks. His resignation and subsequent personnel appointments are widely perceived to be calculated moves by Ma to retain control over the armed forces by installing men from his personal sphere of influence into senior posts.
Kao is the younger brother of Kao Lang (高朗), who was a top aide to Ma and had served as Presidential Office deputy secretary-general.
Other likely forthcoming appointments to senior ministry positions were reportedly men who had gained the president's personal trust and were selected by Ma, in a bid by the highly unpopular, lame-duck president to continue influencing policies and decisionmaking in the military.
The government issued a public statement on Dec. 30 denying that Yen Ming had tendered his resignation.
The ministry also released a statement yesterday saying that the latest reports about Yen Ming's position were speculation and had no factual basis.
However, political pundits said the government's denial is a stalling tactic to keep media from reporting on the matter and to prevent the public from being informed on behind-the-scenes political machinations by Ma.
Comments will be moderated. Keep comments relevant to the article. Remarks containing abusive and obscene language, personal attacks of any kind or promotion will be removed and the user banned. Final decision will be at the discretion of the Taipei Times.