Protesters hurt democracy: president
RATIONAL DISCOURSE: Ma said that the nation's economic integration with other countries should be debated rationally rather than through disruptive protest action
President Ma Ying-jeou (馬英九) criticized the social movements the nation has seen in recent years during yesterday's Double Ten National Day speech, labeling them obstructionist groups that hindered the economy and engaged in "undemocratic" behavior.
To mark the 103rd anniversary of the founding of the Republic of China (ROC), Ma delivered a speech titled "Proud of Our Democracy, Proud of Taiwan" at a Taipei ceremony, which was attended by more than 400 foreign dignitaries, including Burkinabe President Blaise Compaore and Paraguayan President Horacio Cartes.
Much of the speech was devoted to how the adoption of a constitutional democracy has built today's Taiwan, a feat Ma said would "serve as a guidepost for ethnic Chinese societies," despite the challenges the nation has faced in its democratic development in recent years.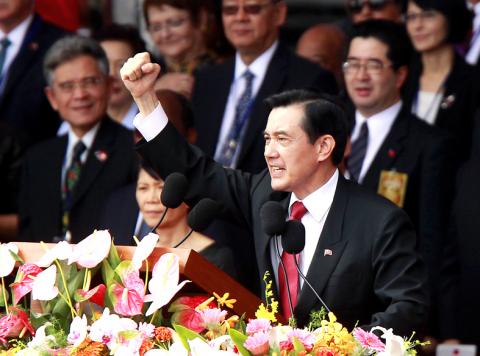 President Ma Ying-jeou raises his fist after giving a speech during Double Ten National Day celebrations in front of the Presidential Office Building in Taipei yesterday.
Photo: Reuters
"In the last year or two, protesters have resorted to some extremely zealous and illegal actions that ignored the lawful interests of people with different opinions," Ma said. "In some cases, they went so far as to occupy government buildings."
The latter part of Ma's comments were an apparent reference to the student-led Sunflower movement, which occupied the main chamber of the legislature in March and April to protest the government's handling of the cross-strait service trade agreement.
"Such undemocratic behavior has generated needless conflict, and allowed a minority to prevent legislative deliberations on many pending bills," Ma said.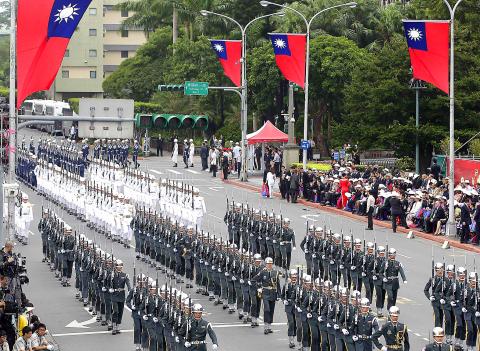 Military honor guards take part in Double Ten National Day celebrations in front of the Presidential Office Building in Taipei yesterday.
Photo: Reuters
While countries are pressing to establish economic and trade alliances, and take part in regional economic integration, Taiwan has remained at a standstill on this front, Ma added.
Ma said that a number of policies must be pursued to increase the nation's economic integration with other countries, including proposals to restructure industries and make more value-added products, carry out deregulation and open up markets, "[and these] cannot be debated rationally" with such protests.
"What we have encountered ... is pure obstructionism that has made progress impossible," Ma said. "If those who oppose our policies refuse to engage in discussion and are unable to propose any alternative, then they are not acting in the spirit of democracy, and Taiwan can only watch helplessly as its competitive advantages slip away."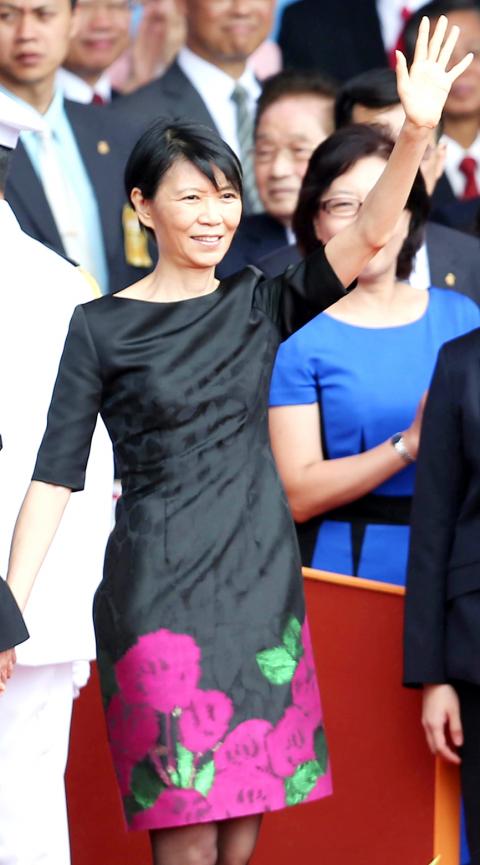 First lady Chow Mei-ching waves at the Presidential Office Building in Taipei yesterday, wearing a dress by Austin Wu, a 24-year-old Taiwanese designer.
Photo: CNA
Ma urged the opposition camp to return to democratic constitutionalism.
"Let us all stay within the system and communicate with sincerity," he said, adding that his administration is "quite willing to uphold democracy by talking with people from all walks of life in a spirit of complete candor."
Ma also said that China should move toward constitutional democracy and honor pledges it made to Hong Kong when the territory was returned to China in 1997 that for 50 years it would allow "rule of Hong Kong by the people of Hong Kong," "a high degree of autonomy" and "election of the chief executive through universal suffrage."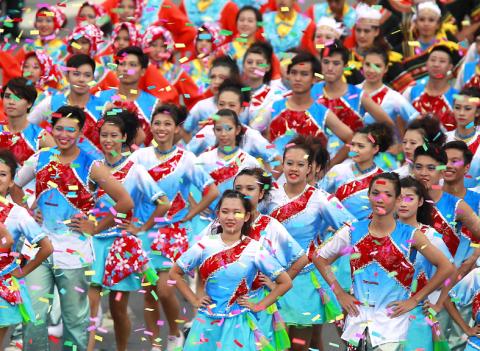 Dancers perform during Double Ten National Day celebrations in front of the Presidential Office Building in Taipei yesterday.
Photo: Reuters
Ma said Beijing should take note that "now is the most appropriate time to move towards constitutional democracy" because China is experiencing rapid economic growth and its people lead affluent lives.
Comments will be moderated. Keep comments relevant to the article. Remarks containing abusive and obscene language, personal attacks of any kind or promotion will be removed and the user banned. Final decision will be at the discretion of the Taipei Times.