High Prosecutors' Office refuses case
The Taiwan High Prosecutors' Office yesterday turned down a request to get involved in the investigation into former Mainland Affairs Council deputy minister Chang Hsien-yao (張顯耀) on allegations of treason.
The director of the Ministry of Justice's Investigation Bureau, Chen Rong-fu (陳榮富), and three other bureau officials took the material that the bureau had gathered so far in its probe into Chang's actions to the prosecutors' office yesterday afternoon.
Chen spent an hour discussing the case with office Director-General Wang Tian-sheng (王添勝) and prosecutors Kuo Wen-tong (郭文東), Tseng Chao-kai (曾昭愷) and Yu Li-chen (余麗貞).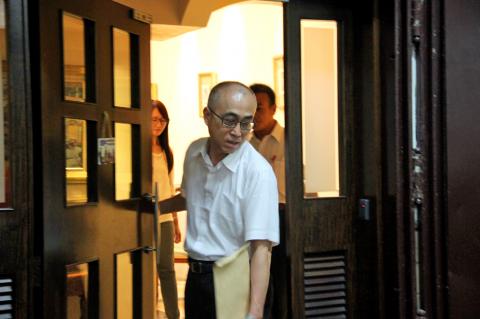 Investigation Bureau Director Chen Rong-fu leaves the Taiwan High Prosecutors' Office in Taipei yesterday after meeting with office Director-General Wang Tian-sheng and three prosecutors to discuss a possible case against former Mainland Affairs Council deputy minister Chang Hsien-yao.
Photo: Chang Wen-chuan, Taipei Times
However, the prosecutors' office declined to take over the investigation, citing a lack of evidence that would bring the case under the office's remit.
Kuo said the office asked the bureau to gather more evidence before sending its case to it for review.
Chang is being investigated for allegedly violating the National Security Information Protection Act (國家安全機密保護法) by divulging "confidential" information on at least two separate instances.
Under the act, information is given three designations: top secret, secret and confidential.
"Confidential" is applied to information that would cause identifiable damage to national security.
However, there is no indication that the allegations against Chang involve either the unintentional divulging of confidential information or a deliberate act.
Senior prosecutors said the fact that the bureau took the case directly to the Taiwan High Prosecutors' Office and not a local prosecutors' office shows that the case touched on national security issues.
Such violations may be tied into violation of Article 109 of the Criminal Code, which could lead to a prison sentence of one year to seven years, senior prosecutors said.
Additional reporting by CNA
Comments will be moderated. Keep comments relevant to the article. Remarks containing abusive and obscene language, personal attacks of any kind or promotion will be removed and the user banned. Final decision will be at the discretion of the Taipei Times.