KMT panned over nomination impasse
MAJORITY MISFIRE: The KMT ignored public dissatisfaction in its attempt to railroad the Control Yuan nominations through the legislature, the DPP chairperson said
The governing party failed the nation by ignoring public disapproval of its list of Control Yuan nominees and trying to ram the nominations through, Democratic Progressive Party (DPP) Chairperson Tsai Ing-wen (蔡英文) said yesterday.
Tsai made the remarks as she fought back against Chinese Nationalist Party (KMT) allegations that she is solely responsible for the legislature's failure on Friday to approve the nominations.
The DPP blocked the approval vote on the final day of the legislature's extra session, calling the roster "the worst in history."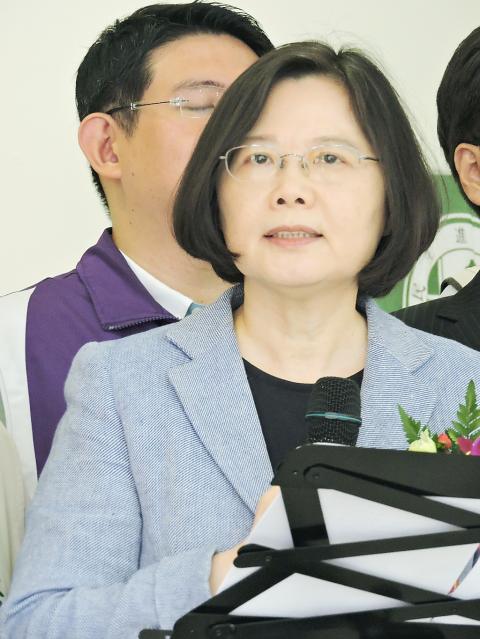 Democratic Progressive Party Chairperson Tsai Ing-wen speaks in Taipei yesterday.
Photo: Lai Hsiao-tung, Taipei Times
The blockade has sparked harsh criticism from the KMT, which held Tsai accountable for it.
Tsai yesterday said that as the term length of the Control Yuan members is six years, President Ma Ying-jeou's (馬英九) nomination actually deprives the next president of the right of nomination and the next legislature of the right of approval. This deprivation would incur chaos to the constitutional system and results from the KMT's long-term machination of Control Yuan nominations.
Tsai asked the KMT whether the president has met society's expectations by fulfilling the duties of his office, saying the public was dissatisfied with the nominations.
With a roster as controversial as it is, the ruling party still failed to give it a second thought and planned to ram it through via a legislative majority, Tsai said.
"It is simply unacceptable," she added.
Separately, DPP spokesperson Hsu Chia-ching (徐佳青) expressed regret over what she said was an attack by Ma on his compatriots that began when he left for Central America on a diplomatic tour last week.
Hsu said the nation has been unified, hoping that the president would have a successful trip to Central America, but during Ma's visit to nations that have diplomatic ties with Taiwan, the nation's name was relegated to "China Taiwan."
Ma was also blocked from the Chinese Consolidated Benevolent Association in San Francisco and had to hold a banquet in a hotel while on a stopover in the city, Hsu said, adding that many media outlets were not able to get in.
The DPP spokesperson said the predicament showed that Taiwan's diplomatic situation has not improved with a detente with China, as Ma claims. On the contrary, it has gotten worse with Ma's so-called diplomatic truce, the spokesperson said.
Comments will be moderated. Keep comments relevant to the article. Remarks containing abusive and obscene language, personal attacks of any kind or promotion will be removed and the user banned. Final decision will be at the discretion of the Taipei Times.