Taiwan would not survive month of attack, NSB says
WILL TO FIGHT? Tsai Der-sheng contradicted the defense minister, saying the nation might not last a month against China unless the public was willing to resist an invasion
National Security Bureau Director Tsai Der-sheng (蔡得勝) yesterday contradicted a statement made by Minister of National Defense Yen Ming (嚴明) on how long the country could withstand a Chinese attack.
Yen had said last week that Taiwan could survive "at least one month," should China invade, without help from the US, adding the estimate was based on conclusions drawn from various war games.
Tsai was responding a request from Chinese Nationalist Party (KMT) Legislator Chien Tung-ming (簡東明) at a meeting of the legislature's Foreign Affairs and National Defense Committee yesterday to comment on Yen's remarks.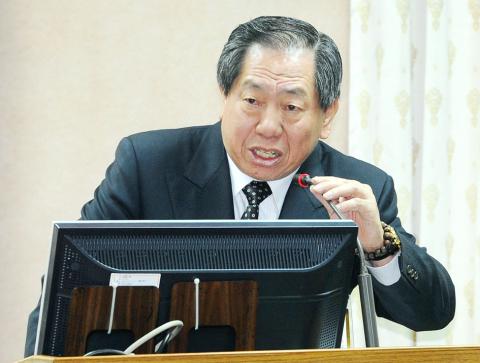 National Security Bureau Director Tsai Der-sheng answers questions on how long Taiwan could withstand an attack from China, unaided, at a meeting of the legislature's Foreign Affairs and National Defense Committee yesterday.
Photo: Wang Min-wei, Taipei Times
"The Ministry of National Defense has a better understanding of the military strength of both sides, so it said Taiwan's military will be able to withstand a Chinese attack for one month. Yet whether the nation is capable of resisting for a month depends on the public's will to resist an invasion. If everyone wants to leave, [Taiwan] might not be able to withstand for a month," Tsai said.
He added that modern warfare proceeds very quickly, unlike during World War I or World War II.
Meanwhile, regarding the Legislative Yuan's review of the cross-strait services trade agreement that is slated to begin tomorrow, Tsai yesterday said that any increased cross-strait interaction runs the risk of compromising national security, as China would attempt to infiltrate Taiwan.
However, he added that the bureau has already made a security assessment last month and taken necessary precautions with all related government agencies, but that the risks were minimal.
The assessment was sent to the Legislative Yuan last week, he added.
Democratic Progressive Party Legislator Tsai Huang-liang (蔡煌瑯) said that 784 Chinese are known to have overstayed their visas, with the number of illegal Chinese in the country coming to more than 1,000 if those smuggled in were also included.
These Chinese are in every part of the country, and pose considerable risk to society and national security, Tsai Huang-liang said.
When asked by if the bureau could get an accurate number on Chinese in Taiwan, Tsai Der-sheng said that if the bureau did not know the whereabouts of a Chinese national, then it did not keep tabs on them.
"We will attempt to find out their location and residence to do our best at maintaining security," Tsai Der-sheng said.
Comments will be moderated. Keep comments relevant to the article. Remarks containing abusive and obscene language, personal attacks of any kind or promotion will be removed and the user banned. Final decision will be at the discretion of the Taipei Times.