No US recognition of PRC's zone: Biden
China's new air defense zone will not affect US military operations in the region even as it increases the risk of "miscalculations," US Vice President Joe Biden said.
Biden spoke in Seoul yesterday after a visit to Beijing where he pressed Chinese leaders to take practical steps to avoid conflict over the air zone, which covers a large swath of the East China Sea, including islands also claimed by Japan and Taiwan and a submerged rock that South Korea considers its own.
He met South Korean President Park Geun-hye for talks earlier in the day at the presidential office in Seoul, where Park called the US-South Korea relationship "the linchpin to stability and security not just on the Korean Peninsula, but in northeast Asia."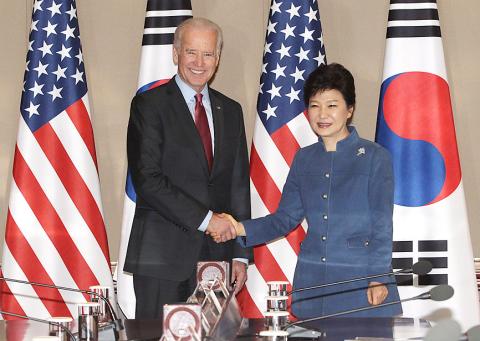 South Korean President Park Geun-hye, right, shakes hands with US Vice President Joe Biden prior to their meeting in Seoul yesterday.
Photo: EPA
Biden and Park held hands as they walked together after greeting each other.
"I was absolutely clear on behalf of my president: We do not recognize this zone," Biden said in a speech at Yonsei University. "It will have no effect on American operations. Just ask my general. None. Zero."
Biden's trip to Asia was originally intended to focus on the 12-nation Trans-Pacific Partnership trade pact and reinforcing a renewed US emphasis on the region. That agenda was overtaken by China's Nov. 23 announcement of the air defense identification zone, which has ratcheted up tensions in the region as the US, South Korea and Japan all ran military flights through the area in a test of Chinese resolve.
The perils of in-air confrontations are illustrated by a 2001 incident when a Chinese fighter jet collided with a US Navy plane monitoring Chinese communications over the South China Sea. The Chinese pilot was killed, while the US plane made an emergency landing on China's Hainan Island.
China held its crew of 24 for 11 days before freeing them after the US expressed regret for the death of the Chinese pilot.
"US military forces will continue to professionally conduct operations in international airspace and waters throughout the Indo-Asia-Pacific in steadfast support of our allies, partners and regional security," Admiral Samuel Locklear, III, commander, US Pacific Command, said in an e-mailed statement.
China's declaration of the air zone has complicated its efforts to forge closer ties with Park's government and gives her an incentive to further strengthen relations with the US.
Biden used his opening remarks to Park to reiterate the US commitment to its military rebalancing to Asia.
"The United States never says anything it does not do," Biden said.
It is "never been a good bet to bet against America," he said, "and America will continue to place its bet on South Korea."
Comments will be moderated. Keep comments relevant to the article. Remarks containing abusive and obscene language, personal attacks of any kind or promotion will be removed and the user banned. Final decision will be at the discretion of the Taipei Times.