ADIZ stance undermines nation: Lee
The government's decision to instruct the Civil Aeronautics Administration to comply with China's newly declared air defense identification zone (ADIZ) in the East China Sea underlines President Ma Ying-jeou's (馬英九) "one-China mindset" and risks giving the world the false impression that Taiwan belongs to China, former president Lee Teng-hui (李登輝) said yesterday.
Lee made the remarks in response to media inquires on the sidelines of a forum held by the Taiwan Brain Trust think tank on the nation's national and economic development and Japan's economic policies, which was also attended by former Democratic Progressive Party chairperson Tsai Ing-wen (蔡英文) and former presidential adviser Koo Kwang-ming (辜寬敏).
When asked about the Ma administration's pledge to express its "solemn stance" on China's unilateral demarcation of the zone, Lee said it was "good" that the government intended to lodge a protest against the matter because the preservation of Taiwan's national consciousness was extremely vital.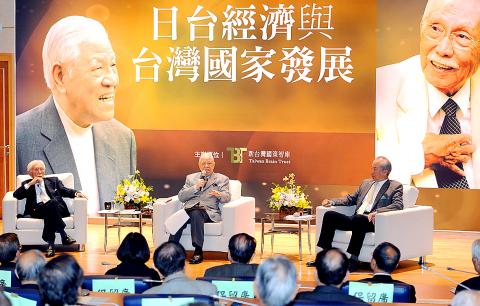 Former presidential adviser Koo Kwang-ming, left, and former president Lee Teng-hui, center, participate in an event organized by Taiwan Brain Trust in Taipei yesterday.
Photo: Lo Pei-der, Taipei Times
However, Lee reacted strongly to the government's insistence on abiding by China's ADIZ rules despite a joint statement issued by the legislature on Friday urging it not to do so.
"Is Taiwan an [independent] country or what? If the US and Japan can [refuse to comply with China's requirements], why can't Taiwan?" Lee asked, adding that Ma, as the head of state, should have the best interests of the nation and its people in mind.
As to whether the government's compliance could lead the world to view Taiwan as part of China, Lee said: "That is exactly what he [Ma] means… No one in this country agrees with the 'one China' principle, except him."
Meanwhile, Tsai said that given Taiwan's key strategic role in maintaining peace and stability across the Taiwan Strait and in the Asia-Pacific region, the Ma administration was "not tough enough" in its handling of the situation.
"It has also failed to strike a balance between its warming ties with China and its obligation to be a responsible party in the region," Tsai said.
China announced its new ADIZ that includes the disputed Diaoyutai Islands (釣魚台) on Nov. 23, demanding that foreign aircraft passing through the zone file flight plans in advance and strictly follow instructions from its air-traffic controllers.
In his keynote speech at the forum, Lee said that to stimulate economic growth, the government must attach more importance to national economic security, agricultural development and energy independence, rather than focusing only on trade liberalization and exports.
Lee identified five crises faced by the nation's society and economy:
First, Taiwan's over-reliance on China has caused the hollowing-out of industries, a loss of technical know-how and a decline in developmental momentum, which requires the government to help maintain a technological advantage to ensure the nation's economy independence.
Second, Taiwanese corporations' over-investment in China has led to stagnant wages and a lack of job opportunities at home, resulting in a widening poverty gap. The gap could be narrowed if the government creates more jobs.
Third, the government's overemphasis on trade liberalization has weakened the nation's competitiveness. It must work to enhance small and medium-sized enterprises' innovative capacity to help industrial clusters take root.
Fourth, the government's over-dependence on imported energy and food has jeopardized the nation's economic security, which requires it to build a sustainable economy and put more effort into developing agriculture and renewable energy sources.
Lastly, as the relationship between the nation's financial sector and the real economy has developed abnormally, the government needs to redefine it immediately.
Separately yesterday, former representative to Japan Koh Se-kai (許世楷) said Ma had turned from someone who said he was willing to go to war with Japan over the Diaoyutai dispute to a person who blatantly denied the apparent link between China's ADIZ announcement and the issue of territorial sovereignty.
"The difference in Ma's handling of the two incidents underscores his pro-China stance… He has given up expanding the nation's military capacity and improving its public diplomacy because of China, while willingly turned himself into the leader of a 'client state,'" Koh said.
Additional Reporting by Chen Hui-ping
Comments will be moderated. Keep comments relevant to the article. Remarks containing abusive and obscene language, personal attacks of any kind or promotion will be removed and the user banned. Final decision will be at the discretion of the Taipei Times.