Peace agreement not a priority, but economy is: Ma
President Ma Ying-jeou (馬英九) yesterday stressed that a cross-strait political negotiation is not a top priority for the government, as it would focus on more urgent issues such as the cross-strait service trade agreement.
In a meeting with the Taiwan Foreign Correspondents' Club at the Presidential Office, Ma said Taiwan would not avoid cross-strait political issues, but the time is not right for political talks with China.
He reiterated his "economics first, politics later" policy for dealing with China and said for the two sides of the Taiwan Strait to engage in political talks and discuss the signing of a peace accord, his administration would have to seek a clear public consensus on the issue.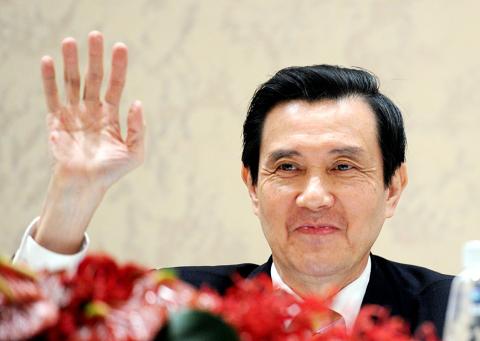 Taiwan President Ma Ying-jeou gestures during a press conference at the Foreign Correspondents Club in Taipei yestarday.
Photo: AFP
"We must be very cautious in addressing the issue of a cross-strait peace agreement. Many people in Taiwan still think that a peace agreement is aimed at unification and the government does not want to cause such a misunderstanding," he said.
The signing of a cross-strait agreement on goods and the proposed establishment of cross-strait representative offices are more urgent issues, Ma said.
The two sides also agreed to prioritize efforts to facilitate the implementation of the cross-strait service trade agreement.
The agreement, signed in June during the ninth round of cross-strait talks, has yet to be approved by the Legislative Yuan.
Ma called for the Democratic Progressive Party (DPP) to support the agreement in the legislature, and said the agreement "must" and "will" be approved.
"The opposition camp can oppose the agreement, but should not hurt Taiwan to the core," he said.
If the pact is not approved, the nation's efforts to sign free-trade agreements with other nations would be compromised, he said.
Comments will be moderated. Keep comments relevant to the article. Remarks containing abusive and obscene language, personal attacks of any kind or promotion will be removed and the user banned. Final decision will be at the discretion of the Taipei Times.