Ma remarks could rule out US intervention: academic
DANGEROUS WORDS: Ma's framing of cross-strait ties as not international could signal his intention to meet with Chinese President Xi Jinping, the academic said
President Ma Ying-jeou's (馬英九) statement that cross-strait relations are "not international relations" during his Double Ten National Day speech has further weakened Taiwan's sovereignty and was meant as a hint for the US and Japan not to interfere in cross-strait issues, a local academic said.
"If by including such words in the National Day address Ma intends to make the cross-strait issue an internal matter and not open to international interference, it would cause serious repercussions in the days to come," said Wong Ming-hsien (翁明賢), director of Tamkang University's Graduate Institute of International Affairs and Strategic Studies.
Pointing to the fact that Taiwan is not a part of the UN, and the Ma administration's inclination to make the cross-strait issue an internal issue rather than international, Wong said that in the event of a military conflict over the Taiwan Strait, neither Japan nor the US would have grounds to intervene.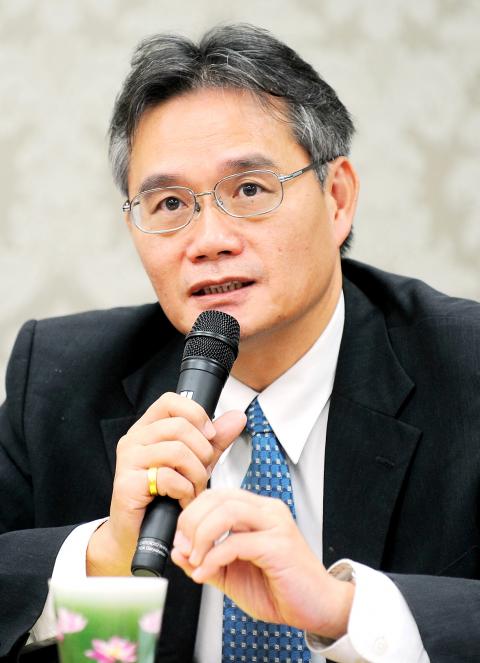 Wong Ming-hsien, director of Tamkang University's Graduate Institute of International Affairs and Strategic Studies, talks to reporters on Feb. 4.
Photo: Lin Cheng-kung, Taipei Times
Ma's National Day address reflects his policy directions in the two years left of his term, and Ma has to explain to the international community what he means by "cross-strait relations are not international relations," Wong said.
"Is it like the Basic Treaty signed in 1972 by the two Germanies, in which both agreed that neither would have the right to represent the other in international affairs, and that both would be able to participate in the UN, or is it an attempt to clarify the relation of 'on the island' and 'on the mainland,' or is it a shift away from his 'no unification, no independence, no use of force' policy and a nod toward unification, maybe even 'to be unified?'" Wong asked, adding that Ma has to make his intentions clear, both to Taiwanese and to the international community.
That Ma would make such a declaration at a time when his approval ratings had sunk as low as 9.2 percent perhaps shows his intention to pave the way for a meeting with Chinese President Xi Jinping (習近平), Wong said, adding that Ma's rhetoric coincides with Xi's comments during a meeting with former Chinese Nationalist Party (KMT) chairman Wu Po-hsiung (吳伯雄) in June that both sides of the Strait are Chinese by ethnicity (zhonghua minzu, 中華民族).
Wong said he believed Ma was attempting to trumpet his cross-strait policies to draw attention from his lack of domestic accomplishments.
However, Ma's "diplomatic accomplishments" in recent years, while superficially creating the image of Taiwan being more active in international efforts, only damaged Taiwan's status as a sovereign nation, he said.
Diplomacy is an extension of a nation's sovereignty, but the Ma administration has set a bad example by asking for China's agreement before applying to participate in the World Health Assembly or the International Civil Aviation Organization, Wong said, adding that the administration has caused Taiwan to become a "diplomatic sub-entity" in the international community.
If non-governmental organizations in Taiwan were to follow such a precedent, then "Taiwan would have no diplomacy to speak of," Wong said, adding that with the Ma administration's weakening of national defense, Taiwan may not be far from becoming the second Hong Kong or Macau.
Wong concluded with a warning that the Ma administration's overtly pro-China policies have already worried the US, adding that the stall in US-Taiwan arms sales clearly shows that the US is standing back and observing.
Comments will be moderated. Keep comments relevant to the article. Remarks containing abusive and obscene language, personal attacks of any kind or promotion will be removed and the user banned. Final decision will be at the discretion of the Taipei Times.