Jiang backs Ma in Wang case
'RED LINE': The premier said Legislative Speaker Wang Jin-pyng's alleged influence peddling crossed Ma's 'red line,' which is why he had denounced Wang so strongly
Premier Jiang Yi-huah (江宜樺) yesterday gave his full support to President Ma Ying-jeou's (馬英九) handling of the "influence peddling" case against Wang Jin-pyng (王金平) and said the Cabinet would sustain its backing even if this impeded legislative operations.
Maintaining the judicial system's independence is "a matter of principle," Jiang said, adding that: "We [the Cabinet] are already mentally prepared for legislative turmoil."
Jiang made the comments a day after Ma issued a strongly worded statement denouncing Wang's alleged meddling in judicial affairs as the "most serious infringement" in the nation's history.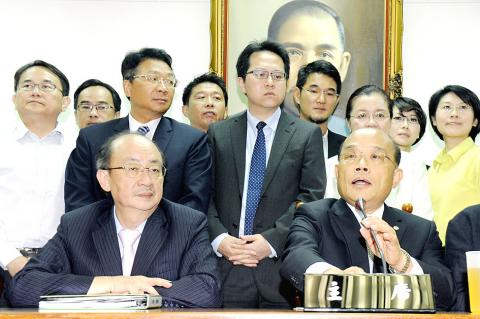 Democratic Progressive Party (DPP) Legislator Ker Chien-ming, left, listens as DPP Chairman Su Tseng-chang, right, speaks in Taipei yesterday.
Photo: Chen Chih-chu, Taipei Times
Ma's severe condemnation has ignited speculation that Wang, a legislator-at-large with the Chinese Nationalist Party (KMT), of which the president is chairman, could lose his position if the KMT suspends his membership or expels him from the party.
Wang stands accused by the Special Investigation Division of the Supreme Prosecutors' Office of illegally lobbying for Democratic Progressive Party legislative caucus whip Ker Chien-ming (柯建銘) in a breach of trust case by urging then-minister of justice Tseng Yung-fu (曾勇夫) and Taiwan High Prosecutors' Office Head Prosecutor Chen Shou-huang (陳守煌) to use their influence to stop a prosecutor from appealing Ker's not-guilty verdict.
Wang, a 38-year veteran of the legislature, has occupied his current post since 1999. The 72-year-old speaker has good rapport with fellow lawmakers from both the ruling and opposition camps.
The KMT is scheduled to hold a disciplinary committee meeting to rule on Wang's membership tomorrow, a day after he is to return to Taiwan from a trip abroad. Wang is expected to arrive at 7:20pm.
Jiang said he was present at a meeting on Sunday afternoon in which Ma was putting the finishing touches on his statement and that Vice President Wu Den-yih (吳敦義) also attended.
"President Ma was determined about his stance before he discussed the statement with us," Jiang said.
The reason Ma set a strong tone in the statement was that Wang's alleged misconduct crossed the president's "red line," Jiang said.
Jiang said that "the judiciary is the last line of defense for justice" in society and has "no gray areas."
Separately, Control Yuan President Wang Chien-shien urged Wang Jin-pyng to resign on his own accord if the allegations against him are proven to be true.
Wang Chien-shien said he expected the KMT committee to impose severe disciplinary action on the legislative speaker.
"Otherwise, the KMT will be finished. The KMT has to do take action against Wang Jin-pyng that will serve as a deterrent to potential influence peddlers," he said.
Wang Chien-shien also called for Ker to resign if it was proven that he had asked Wang Jin-pyng to do lobby the prosecutor on his behalf.
Additional reporting by CNA
Comments will be moderated. Keep comments relevant to the article. Remarks containing abusive and obscene language, personal attacks of any kind or promotion will be removed and the user banned. Final decision will be at the discretion of the Taipei Times.