Ma disputes Wang's claim he did not interfere in case
HARSH WORDS: The president said the alleged influence peddling by the legislative speaker in a legal case was the "most serious infringement" of the judiciary's independence
President Ma Ying-jeou (馬英九) yesterday disputed the claim by Legislative Speaker Wang Jin-pyng (王金平) that he had not lobbied on behalf of a defendant in a legal case, calling the incident "the most shameful day in the development of Taiwan's democracy."
Wang's alleged influence peddling amounted to "the most serious infringement" of the independence of Taiwan's judiciary, the president said.
Reading from a prepared text at the Presidential Office, Ma said how the incident evolved would have "a far-reaching impact" on Taiwan's democracy, and he called on the people to help defend democracy and the rule of law.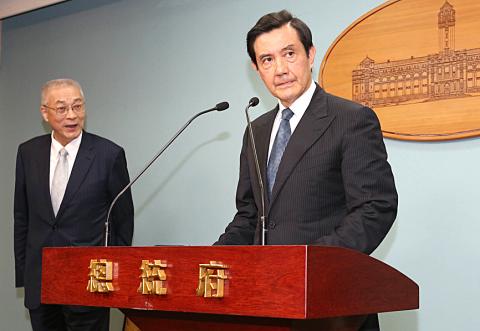 Vice President Wu Den-yih, left, yesterday stands by as President Ma Ying-jeou comments on the alleged influence peddling affair that resulted in the resignation of former minister of justice Tseng Yung-fu on Friday.
Photo: CNA
Wang had telephoned him to deny having lobbied on behalf of a fellow lawmaker, Ma said. According to Ma, Wang said he had called the minister of justice "merely to show concern" for a case in which Democratic Progressive Party Legislator Ker Chien-ming (柯建銘) was the defendant.
"If this was not influence peddling, then what is?" Ma said.
Wang is in Malaysia to attend the wedding of one of his daughters. In the phone call he explained to Ma why he was not able to return to Taiwan as early as the president had wanted and why he made a call to then minister of justice Tseng Yung-fu (曾勇夫), who resigned on Friday night over the incident.
After reading his strongly worded statement, Ma did not take any questions from reporters. Vice President Wu Den-yi (吳敦義) and Premier Jiang Yi-huah (江宜樺) also attended the hastily arranged press conference.
Separately, Wang's office said it was still uncertain whether he would return home early from a family vacation, one day after Ma ordered him to return to Taiwan immediately to explain his alleged illegal lobbying in a lawsuit involving Ker.
"We have yet to hear anything regarding the matter from Wang and remain unsure whether he would return home early. All we know is that he is scheduled to return on Tuesday night, but we have no information concerning the exact arrival time of his flight," Wang's office said.
The office said Wang left for Malaysia on Friday to host his second daughter's wedding, which was held yesterday on an outlying island of the Southeast Asian country that can only be reached via a combination of several modes of transportation.
The alleged misconduct was raised by the Special Investigation Division (SID) at a press conference on Friday, during which it said that Ker, after being found not guilty on June 18 of embezzling funds from Formosa Telecom Investment Co (全民電通) in 1997, allegedly asked Wang, a member of the Chinese Nationalist Party (KMT), to lobby Tseng and Taiwan High Prosecutors' Office Head Prosecutor Chen Shou-huang (陳守煌) to use their influence to persuade a prosecutor not to appeal the case with the Supreme Court.
Tseng and Chen then allegedly illegally instructed Lin Shiow-tao (林秀濤), the prosecutor in charge of Ker's breach of trust case, not to appeal the ruling, thus making the verdict final, the division said.
Although Tseng and Chen have been cleared of criminal responsibility for the case, the former would be referred to the Control Yuan for an impeachment probe, while the latter would be subject to an administrative evaluation, the SID said.
Tseng announced his resignation after meeting with Jiang twice, while insisting on his innocence.
Comments will be moderated. Keep comments relevant to the article. Remarks containing abusive and obscene language, personal attacks of any kind or promotion will be removed and the user banned. Final decision will be at the discretion of the Taipei Times.