Chinese patrols in Asian seas 'legitimate': general
Chinese warships will continue to patrol waters where Beijing has territorial claims, a top Chinese general said yesterday, amid simmering rows with neighboring countries over the South China Sea and islands controlled by Japan.
Chinese Lieutenant General Qi Jianguo (戚建國), deputy chief of the General Staff of the People's Liberation Army (PLA), defended the patrols as legitimate and said his country's sovereignty over the areas could not be disputed.
"Why are Chinese warships patrolling in East China Sea and South China Sea? I think we are all clear about this," Qi told the annual Shangri-La Dialogue security conference in Singapore.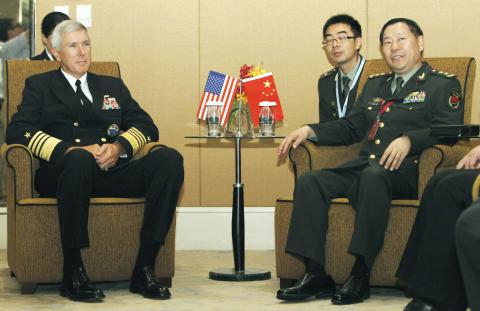 Lieutenant General Qi Jianquo, right, deputy chief of the General Staff of the People's Liberation Army, meets with US Admiral Samuel Locklear, commander of US forces in the Pacific region, on the sidelines of the 12th Asia Security Shangri-La Dialogue in Singapore yesterday.
Photo: Reuters
"Our attitude on the East China Sea and the South China Sea is that they are in our Chinese sovereignty. We are very clear about that," he said through an interpreter. "So the Chinese warships and the patrolling activities are totally legitimate and uncontroversial."
Qi was responding to a question from a delegate after he gave a speech in which he sought to assure neighboring countries that China has no hegemonic ambitions.
"China has never taken foreign expansion and military conquering as a state policy," he said in his speech. "Although recently hot-spot issues in China's neighboring area keep cropping up, we have always held that conflicts and disputes should be properly solved through dialogues, consultations and peaceful negotiations."
However, one delegate said there appeared to be growing regional skepticism over China's peaceful intentions because it was inconsistent with moves to send naval patrols to waters where other countries have also staked claims.
China is locked in a territorial dispute with Taiwan, Brunei, Malaysia, the Philippines and Vietnam in the South China Sea.
The four Southeast Asian states have partial claims, but China says it has sovereign rights to nearly all of the sea, including waters and territories much closer to other countries and thousands of kilometers from the Chinese coast.
China, Japan and Taiwan also dispute the sovereignty of the Diaoyutai Islands (釣魚台), known in Japan as the Senkaku Islands, in the East China Sea.
Last month, Manila protested against what it called the "provocative and illegal presence" of a Chinese warship near Second Thomas Shoal (Renai Shoal, 仁愛暗沙), which is occupied by Philippine troops.
Comments will be moderated. Keep comments relevant to the article. Remarks containing abusive and obscene language, personal attacks of any kind or promotion will be removed and the user banned. Final decision will be at the discretion of the Taipei Times.