Ma should listen to the people: Su, Tsai
Developing a strong economy for sustainable livelihoods is the unavoidable responsibility of a national leader and President Ma Ying-jeou (馬英九) should put his money where his mouth is, Democratic Progressive Party (DPP) Chairman Su Tseng-chang (蘇貞昌) and former DPP chairperson Tsai Ing-wen (蔡英文) said yesterday in response to Ma's National Day speech.
"The biggest wish of Taiwanese on National Day is to enjoy a better standard of living, rather than watching a president talking," Su said in Lioujiao Township (六腳), Chiayi County.
"Instead of boasting about tomorrow, I would advise the president visit local communities and gain first-hand experience of people's suffering," said Su, who turned down an invitation from the Presidential Office to attend the National Day ceremony.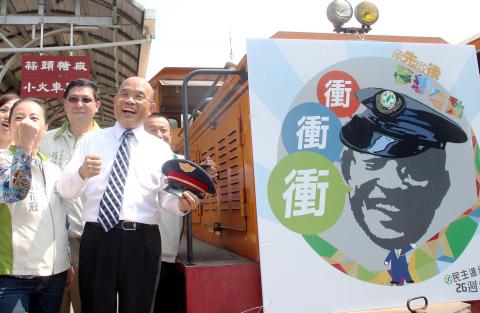 Democratic Progressive Party Chairman Su Tseng-chang laughs when he sees his portrait as during a visit to Chiayi County to honor some senior party members yesterday.
Photo: CNA
The Ma administration has failed to listen to the people's voice, evidenced by the president's recent "inflammatory remark" that laziness was why people do not exercise as often as they should.
Tsai, who also skipped the ceremony and visited Nantou County, told reporters the economy is key for Taiwan and that people expect a competent and responsible government to help the country emerge from the economic slump.
Asked to comment on Ma's speech, Tsai said his pledges were empty and sounded "more like a first-year president than a fifth-year president" because Ma "keeps telling people what he plans to do, rather than what he has achieved."
The former DPP presidential candidate also offered advice to Ma on her Facebook page.
Quoting former US president Andrew Jackson, who said the greatness of an administration is built upon freedom, abundance and the fearlessness of its people, Tsai said a government which lacks the determination to safeguard freedoms and cannot take care of people's everyday lives is not qualified to demand the loyalty of its people.
The worsening economic situation, including rising prices, an growing unemployment rate, furloughs and stagnant wages, has affected everyone — young and old — nationwide, Tsai said.
"The government appears to be the culprit of the people's suffering," she wrote.
The Ma administration has turned a deaf ear to warnings about the economy from the DPP and academics, Tsai said, adding that Taiwan's overdependence on the Chinese market and the failure of industries to upgrade had hurt the nation's global competitiveness.
Ma's decision to raise electricity and fuel prices was like adding fuel to the fire, as the poor get poorer and the middle-class is struggling like never before, she said.
Tsai said she had expressed hope that Ma would "listen to the voice of the people, and take care of each and every Taiwanese" in her concession speech on the night of the presidential election on Jan. 14, but it is obvious that Ma had not been listening.
"I want to remind you [Ma] again, on National Day, that people are not required to lend unconditional support to the country unless their freedoms and well-being are amply protected," Tsai said.
Comments will be moderated. Keep comments relevant to the article. Remarks containing abusive and obscene language, personal attacks of any kind or promotion will be removed and the user banned. Final decision will be at the discretion of the Taipei Times.