2012 ELECTIONS: Candidates stage rallies nationwide
'SUPER SATURDAY': All three presidential candidates turned on the charm yesterday at night markets, rallies and in motorcades as they sought to shore up support
Election fever was ratcheted up a notch yesterday on "Super Saturday" as the three presidential candidates criss-crossed the nation canvassing for votes, before they rounded up their days with campaign rallies.
President Ma Ying-jeou (馬英九), who is seeking re-election, stepped up his campaign efforts in Yunlin and Changhua counties, visiting markets and temples as he sought support in the pan-green strongholds.
Ma attracted a large crowd during his first stop at the largest market in Douliou City (斗六) in Yunlin County as vendors and supporters packed the narrow streets and presented him with foods that represent good fortune, including zongzi (粽子), steamed buns and Chinese radishes.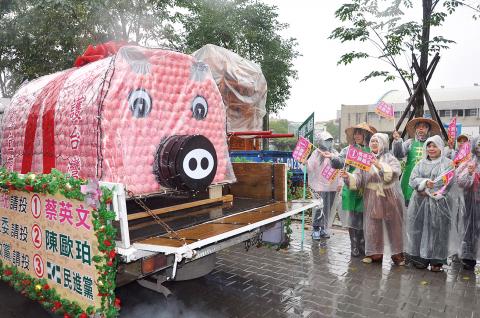 Democratic Progressive Party supporters stand next to a pig made of more than 1,000 traditional migu sacrificial cakes during a campaign event at the Yilan County Cultural Center yesterday.
Photo: CNA
He later joined his running mate, Premier Wu Den-yih (吳敦義), in a bullet-proof motorcade as they waved to local residents.
Supporters showed their passion by making "V" hand gestures as the motorcade drove by. However, along the way, Ma and Wu came across supporters of Democratic Progressive Party (DPP) presidential candidate Tsai Ing-wen (蔡英文), who waved Tsai's campaign flags along the road in the predominantly agricultural area, where the DPP has long enjoyed popularity.
During a visit to Dounan Agricultural Association, Ma defended the government's measures in promoting the development of the agricultural industry and said the cross-strait Economic Cooperation Framework Agreement (ECFA) would continue to help expand the scope of Chinese markets for local businesses.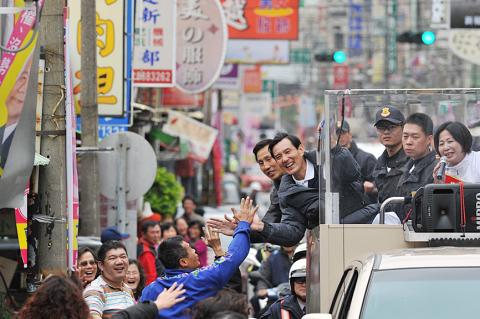 President Ma Ying-jeou greets supporters during a campaign event in Sijhou Township near Greater Taichung yesterday.
Photo: AFP
"Most of the 18 agricultural products exported to the mainland enjoy zero-tariff treatment thanks to the ECFA. Expanding into the Chinese market will continue to boost the sale of agricultural products and improve the lives of our farmers," he said.
Ma's motorcade later traveled to Changhua County as he continued his campaign trip in the south.
Joining local Chinese Nationalist Party (KMT) legislative candidates as they sought to boost their election support, Ma accused Tsai of flip-flopping on the ECFA. He also defended his cross-strait policies as the best way to maintain the "status quo" after criticism from the DPP over major business leaders expressing support for the so-called "1992 consensus."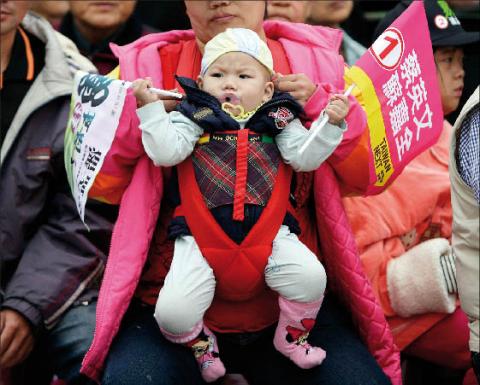 A baby holds flags showing support for Democratic Progressive Party presidential candidate Tsai Ing-wen at a campaign rally for the Jan. 14 presidential election in Pingtung County yesterday.
Photo: Jason Lee / Reuters
"Chairperson Tsai was critical of the ECFA last year and said the local economy would be damaged because of the pact. Now she changed her tone and said she will accept the economic pact … Taiwan would be put in danger if cross-strait relations are handled by a leader who flip-flops about cross-strait policies," he said.
Ma reiterated his criticism of Tsai's cross-strait policies later during a large campaign rally in Changhua City, describing her proposed "Taiwan consensus" as a vague concept that lacks substance.
That rally drew thousands of supporters who packed into the campaign site. The KMT mobilized at least 30,000 party members to join the event, according to KMT Culture and Communication Committee director Chuang Po-chun (莊伯仲).
Amid cheers from supporters, who waved Ma's campaign flags and chanted "Ma Ying-jeou Dong Suan [凍蒜, meaning getting elected in Taiwanese]," Ma questioned Tsai's ability to lead and promised to bring a "golden decade" if re-elected.
"Taiwan needs a leader who can handle delicate cross-strait relations and help the country survive the European debt crisis. Chairperson Tsai is not ready, but we are," he said. "The nation's developments are still under way and it would be unwise to change the leader now."
Ma ended the evening with another campaign rally in New Taipei City (新北市), where he promised to carry out his policy platforms if re-elected.
Meanwhile, Tsai yesterday began what she called the "last mile" trip in her bid for the presidency in the south for a final week of canvassing before Saturday's elections.
Tsai and her running mate, Su Jia-chyuan (蘇嘉全), launched their trip at Pingtung County's port township of Donggang (東港), hoping that the motorcade traversing the country would be able to generate more support.
Tsai and Su raised a sail and a banner with the slogan "Taiwan's first female president" in a ceremony marking the beginning of the trip at an oceanside park.
"We chose here, where the traditional King Boat Festival was held to chase away illness, to start our dash in the last mile to victory," Tsai said.
She said she is confident she can win the election and that the DPP would lead Taiwan into a new age of cooperation between political parties and political stability under the principle of consociational democracy and a grand coalition government when it returns to power.
More than a decade of political dueling has hurt Taiwan's development, which was why she advocated tolerance, solidarity and a democratic process of consensus-building, she said.
"The true meaning of democracy is more than the majority defeating the minority. It also lies in a democratic process that can integrate positive forces and transform it into a power to drive the country forward," she told the supporters.
Holding a majority does not necessarily mean stability, she said, adding that Ma and his KMT had forgotten what democracy is all about, despite holding a solid majority in the legislature and being given a strong mandate after Ma's landslide win in the 2008 election.
Ma has neither listened to the people's voice nor respected the opposition party during his term in office, she said.
If she were elected, Tsai said her administration would be bipartisan, because "Taiwan is not a country of the DPP or the KMT. It is a country that belongs to everyone."
From Donggang, Su proceeded to the east coast counties of Taitung and Hualien.
Tsai visited Greater Kaohsiung in the afternoon and received warm support in Fongshan (鳳山), Cianjhen (前鎮) and Siaogang (小港), where many supporters lined the street and welcomed Tsai with firecrackers and cheering.
Tsai later shared the stage with other DPP heavyweights at another rally in Greater Tainan in the evening, where the DPP said a crowd of about 100,000 turned up.
People First Party Chairman James Soong's (宋楚瑜) campaign schedule also took him to Greater Tainan yesterday where he held a campaign rally last night before canvassing for voter support at a night market.
Criticizing Ma as a president who is incompetent and unaware of people's suffering, Soong said that what people need is a president who can take good care of his people by employing government resources and using its talent pool more effectively.
PFP spokesman Wu Kun-yu (吳崑玉) on Friday said that Soong has been busy lately with numerous private appointments with some of his supporters who are unwilling to attend public events.
His running mate, Lin Ruey-­hsiung (林瑞雄), meanwhile, left Taiwan on Wednesday for a four-day visit to Bhutan and is scheduled to return to Taiwan tomorrow.
Additional reporting by staff writer
Comments will be moderated. Keep comments relevant to the article. Remarks containing abusive and obscene language, personal attacks of any kind or promotion will be removed and the user banned. Final decision will be at the discretion of the Taipei Times.