2012 ELECTIONS: Ma's office denies China interference
PULLING THE STRINGS: A 'Next Magazine' report detailed the names and ranks of Ma support group heads invited to tour Shanghai on the Communist Party's dime
President Ma Ying-jeou's (馬英九) re-election campaign office yesterday denied that China had gotten involved in his presidential election campaign because of concerns about Ma's plummeting support, while insisting that his camp opposed any political interference from China.
Ma's campaign office spokesperson Lee Chia-fei (李佳霏) dismissed a story in the Chinese-language Next Magazine that The United Front Work Department's office in Shanghai had invited the local directors of Ma's support groups to visit China from Nov. 17 to Nov. 21 in an attempt to boost Ma's re-election chances amid a neck-and-neck battle against Democratic Progressive Party (DPP) Chairperson Tsai Ing-wen (蔡英文).
"The camp firmly opposes any political interference from the mainland in elections in Taiwan. We are also opposed to any attempt to intervene in Taiwan's elections through the mainland," she said.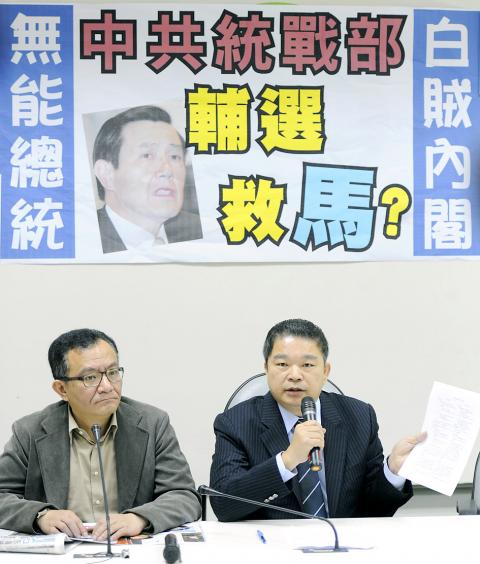 Democratic Progressive Party (DPP) caucus whip Tsai Huang-liang, right, and DPP Legislator Gao Jyh-peng, left, hold a press conference in Taipei yesterday calling on President Ma Ying-jeou to confront China's alleged meddling in the presidential election next month.
Photo: George Tsorng, Taipei Times
According to the magazine, the trip, led by the deputy honorary chairman of Ma's support group in the sports industry, Chang Chao-kuo (張朝國), was arranged by the Chinese Communist Party's United Front Works Department head in Shanghai, Yang Xiaodu (楊曉渡).
A total of 28 local directors of Ma's support groups around the nation, including Chang, were invited to tour Shanghai and Suzhou, -Jiangsu Province, on the five-day trip, which was paid for by the Chinese Communist Party's Shanghai office.
During the trip, Yang openly called on the directors to strengthen efforts to help Ma's election campaign.
Suzhou officials even expressed opposition to People First Party (PFP) Chairman James Soong's (宋楚瑜) participation in the presidential election, calling on the PFP chairman to stay out of the race to avoid affecting Ma's re-election chances.
Lee yesterday insisted that the trip to China was an "individual decision" made by Chang and the other support group heads, adding that Chang and the others should explain their visit and the details of the trip to the public.
While declining to confirm whether the Ma camp would bar support group officials from visiting China before the presidential and legislative elections on Jan. 14, Lee repeated that the camp would not allow China to interfere in the election.
Meanwhile, Tsai urged Beijing to refrain from interfering in Taiwan's elections, saying this was a "basic guideline for any civilized country."
Tsai, who was traveling along Taiwan's southwest coastal areas in a five-day campaign trip, made the comments in response to the Next Magazine report.
"I hope Beijing will respect Taiwan's democracy and the choice of the Taiwanese people and refrain from interfering in Taiwan's elections," she said in Yunlin County. "[Maintaining a neutral position to elections in another country] is the basic guideline for any civilized country."
Tsai said there had been many reports of Chinese officials receiving various Taiwanese groups and organizations, so she was not surprised about the case.
At a separate press conference called by the DPP's caucus in Taipei, DPP Legislator Tsai Huang--liang (蔡煌瑯) urged Ma to call for Beijing's neutrality on Taiwan's presidential election.
"Beijing's continued interference with our elections would eventually erode Taiwan's -democratic system, identity and sovereignty," he said. "President Ma is advised to clearly state his position to China that no one should interfere in Taiwan's elections."
DPP spokesperson Chen Chi-mai (陳其邁) last month listed five ways in which China had interfered with the run-up to elections, including sending provincial-level purchasing delegations and providing incentives for Taiwanese businesspeople in China to return to Taiwan for the January elections.
Soong, when asked for comment on the Next Magazine report, said "Taiwan's democracy cannot tolerate intervention from outside forces."
Additional reporting by staff writer
Comments will be moderated. Keep comments relevant to the article. Remarks containing abusive and obscene language, personal attacks of any kind or promotion will be removed and the user banned. Final decision will be at the discretion of the Taipei Times.