2012 ELECTIONS: Tsai says she is 'open-minded' on China visit
Democratic Progressive Party (DPP) presidential candidate Tsai Ing-wen (蔡英文) said she was "open-minded" about a potential visit to China and that her "Taiwan consensus" initiative emphasized process over results.
In an interview with BBC Chinese published online on Thursday night, the DPP chairperson expressed her positions on a wide range of issues, including cross-strait relations, Taiwan's external relations and the possibility of granting an amnesty to former president Chen Shui-bian (陳水扁) if she is elected in January.
Asked whether she would visit China if invited, Tsai said: "If they are in a position to issue an invitation, I'm sure there will be conditions attached ... depending on what kind of conditions they impose, I just hope [the conditions] will be reasonable."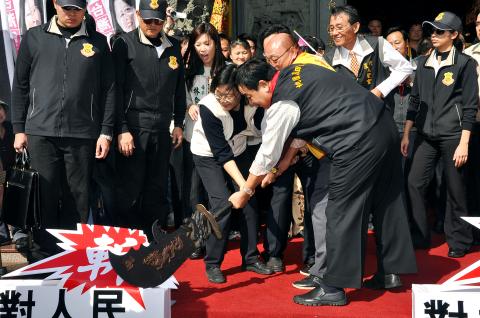 Democratic Progressive Party presidential candidate Tsai Ing-wen, front left, cuts down a placard that read "injustice" at a temple in Taoyuan County yesterday with "Kuan's broadsword," the sword associated with Kuan Kung, the God of War, who is known for his loyalty and justice.
Photo: CNA
Tsai said she was "pretty open-minded" about engagement with China because better communication would help China better understand Taiwan, as well as the DPP.
Engagement would not necessarily require a direct visit by her, she said, adding that it could take the form of an exchange of groups of experts, civil society members or party members.
The "Taiwan consensus" she advocates represents a democratic process, during which all opinions would be included, to close the gap between people on different ends of the spectrum, she said.
While maintaining the "status quo" appears to be the consensus of the majority of the public, Taiwanese are still split about the definition of the "status quo," she said.
"My definition of the 'status quo' would be 'Taiwan is the ROC [Republic of China], the ROC is Taiwan, and Taiwan is a sovereign and independent country,'" she said.
If the DPP returned to power, it would not terminate the Economic Cooperation Framework Agreement (ECFA) signed in June last year, Tsai said, but it would re-examine the pact and make sure future negotiations are transparent, monitored by the legislature and receive support from the majority of Taiwanese.
On Taiwan's external relations, Tsai said good relations with the US were critical because they "serve as a good balance in our dealings with China" and US arms sales would provide Taiwan with sufficient capacity to defend itself and feel comfortable in its ability to face China.
If she had to choose between the US and China, she preferred working with a democracy, which China is not yet, Tsai said.
Taiwan should also work with other countries in the Asia-Pacific region because "we are all facing a rising China."
However, Taiwan would like to maintain decent — peaceful and stable — relations with China under "some sort of framework," she said.
Tsai declined to directly answer whether she would grant an amnesty to Chen, who is serving a 17-and-a-half-year sentence for corruption.
The independence and fairness of Taiwan's judicial system should be addressed before any discussion of an amnesty, she said, adding that divided opinions in Taiwan were the by-products of questionable judicial fairness.
Chen's scandal did hurt the DPP, she said, but the party has undergone a dramatic transformation over the past three years.
"Right now, the DPP is outpacing the Chinese Nationalist Party [KMT] in terms of agenda-setting and policymaking. People's views of the DPP have changed," she said.
Comments will be moderated. Keep comments relevant to the article. Remarks containing abusive and obscene language, personal attacks of any kind or promotion will be removed and the user banned. Final decision will be at the discretion of the Taipei Times.