2012 ELECTIONS: KMT denies Ma met with bookmaker
BOOKIE BROUHAHA: The DPP said that it would be a scandal in any democratic country if the president intended to manipulate election results using a bookmaker
The Presidential Office and the Chinese Nationalist Party (KMT) yesterday denied President Ma Ying-jeou (馬英九) met privately with one of the nation's most powerful bookmakers in September, insisting that the president has handled all political donations in accordance with the regulations.
The Chinese-language Next Magazine yesterday reported that Ma held a closed-door meeting with bookie Chen Ying-chu (陳盈助) in Chiayi on Sept. 10 when campaigning in the city. According to the magazine, Chen is allegedly in charge of major underground betting activities on local elections.
The meeting, arranged by Chiayi Mayor Huang Ming-hui (黃敏惠), was held at her residence and Ma asked for a political donation of NT$300 million (US$9 million), the magazine reported.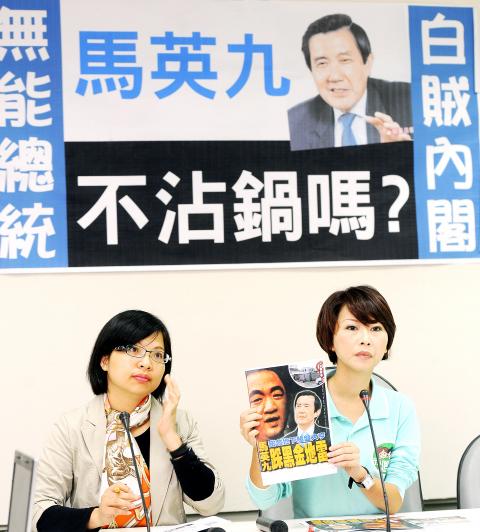 Democratic Progressive Party legislators Lin Shu-fen, left, and Chen Ting-fei, right, at a press conference in Taipei yesterday, urge President Ma Ying-jeou to clear up allegations that he met with one of the nation's top bookmakers in September.
Photo: Fang Pin-chao, Taipei Times
Presidential Office spokesman Fan Chiang Tai-chi (范姜泰基) said Ma did not make a private visit to Huang's residence during his trip to Chiayi that day and there have been no under-the-table political donations.
He said Ma had only met Chen twice — in January 2008 and in 2009 prior to local elections, and the two meetings were held as part of normal visits to grassroots organizations.
"There's no such thing as a political donation from Chen. President Ma has handled all political donations during elections in accordance with related regulations," he said.
Huang also denied arranging a meeting between Ma and Chen, but stopped short of threatening legal action against the magazine.
"[The story] is nonsense. How can the magazine fabricate a story like this? President Ma did not visit my residence," she said.
The Democratic Progressive Party (DPP) said that Ma was obligated to explain the alleged meeting to the public, both as president and as a candidate.
"President Ma should answer questions about whether he sought 'systematic support' for campaign funding and mobilization," DPP Chairperson Tsai Ing-wen (蔡英文) told reporters.
At a press conference, DPP spokespeople questioned Ma's objective in the alleged September meeting, saying that it would be a scandal in any democratic country if the president intended to manipulate elections using a bookmaker.
"We have four questions for President Ma: Did you meet the bookmaker? Did you accept his NT$300 million donation? Were you intending to manipulate the election results through bookmaking? How much money has your aide, King Pu-tsung (金溥聰), and your sister, Ma Yi-nan (馬以南), received from the bookie?" DPP spokesperson Chuang Ruei-hsiung (莊瑞雄) said.
Nobody would have believed that the KMT had a funding problem, with its party assets worth tens of billions of dollars, Chuang said, adding that the meeting between Ma and Chen could be "an attempt to influence the result of the election through bookmaking."
Ma should explain how many times he and his aides had met Chen and why they always met with the bookmaker before major elections — the 2008 presidential election, the 2009 local elections and the Jan. 14 presidential election, Chuang said.
If Ma's campaign had tried to influence voting behavior by manipulating the betting spread, it would be a violation of the election law, DPP spokesperson Liang Wen-jie (梁文傑) said.
While Ma prides his own integrity, several cases uncovered by the media recently have challenged that claim, DPP spokesperson Kang Yu-cheng (康裕成) said.
Ma Yi-nan reportedly received a political donation of NT$20 million from Chang An-le (張安樂), a reputed gang leader, in 2008 and was found to have met with Chen several times, according to the Next report, Kang said, adding that Ma's Chiayi campaign headquarters building was owned by Chen's aide.
DPP legislators Chen Ting-fei (陳亭妃) and Lin Shu-fen (林淑芬) also urged Ma to offer a clear explanation of the alleged meeting with Chen, saying that "it would be ironic for Ma, who always says he is an 'anti-black gold' politician, to be secretly meeting mafia members."
Ma's re-election campaign spokesman Yin Wei (殷瑋) said Chuang and Liang were making accusations against Ma without having any evidence.
KMT spokesperson Lai Su-ju (賴素如) said Ma and the party had no immediate plan to sue the magazine, but called on the magazine to print a correction.
Comments will be moderated. Keep comments relevant to the article. Remarks containing abusive and obscene language, personal attacks of any kind or promotion will be removed and the user banned. Final decision will be at the discretion of the Taipei Times.