Government thanks US for agreeing to arms sale
The government has thanked the US for agreeing to help upgrade the air force's F-16A/B fleet, saying it was an indication of the US taking concrete action to implement the Taiwan Relations Act.
At a press conference called late on Wednesday night, Minister of Foreign Affairs Timothy Yang (楊進添) hailed the administration of US President Barack Obama for "responding to our request proactively by taking concrete actions to approve" the upgrade.
The US government formally notified Congress on Wednesday of its intent to sell Taipei military equipment and services worth about US$5.85 billion. The package includes upgrades of Taiwan's F-16A/Bs, along with pilot training and spare parts, but does not include new F-16C/Ds that Taipei had wanted to modernize its arsenal.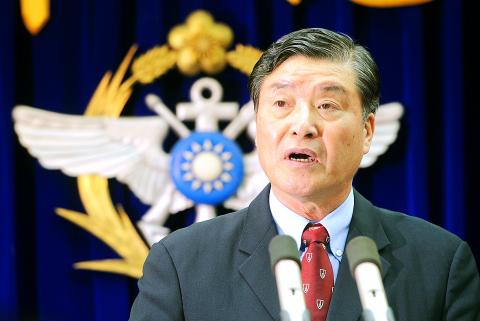 Minister of National Defense Kao Hua-chu speaks at a press conference called on Wednesday night to thank the US for its continued support under the Taiwan Relations Act after the announcement of the F16A/B upgrades.
Photo: Liu Hsin-de, Taipei Times
Yang said that together with a previous arms sale worth US$12.5 billion, which the US offered Taiwan less than three years into President Ma Ying-jeou's (馬英九) presidency, the US government has provided US$18.3 billion worth of weapons to Taiwan "on an unprecedented scale and pace."
Ma yesterday also showed his thanks and reiterated his calls for the US to sell F-16C/Ds and other defensive weapons to Taiwan.
He stressed that buying weapons from the US does not signal any intention to engage in an arms race with China, but that it is necessary to maintain Taiwan's defensive capabilities.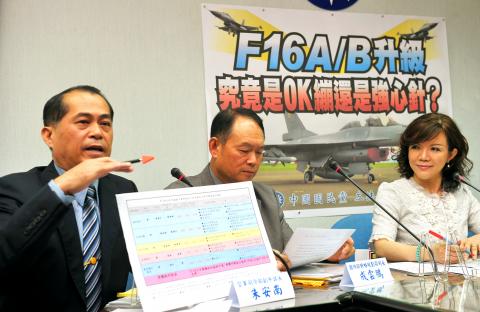 Chinese Nationalist Party (KMT) caucus whip Chao Li-yun, right, listens to Air Force Headquarters Deputy Chief Chu An-nan yesterday as he discusses the F-16A/B upgrade package announced by the US on Wednesday.
Photo: CNA
Ma added that these arms procurements were much larger than any under his two predecessors, former presidents Lee Teng-hui (李登輝) and Chen Shui-bian (陳水扁).
"The upgrade package will make the air force of the Republic of China the first fleet in the world equipped with AESA radars, which can effectively deal with [China's] J-20s," according to Chu An-nan (朱安南), deputy chief of the Air Force Headquarters.
However, polarized responses emanated from governing and opposition lawmakers.
Chinese Nationalist Party (KMT) Legislator Lin Yu-fang (林郁方) said that while the exclusion of F-16C/Ds from the package could bring to mind the phrase, "if you can't have a fish, a shrimp can be just as good," he said that he did not think the retrofit package was a shrimp. "It was a fish. In fact, a very big fish."
Lin said he was "deeply moved" by the F-16A/B retrofit package because it was "far better than I had expected," which he said showed the Obama administration "highly recognized" Ma's efforts to pursue cross-strait peace and enhance Taiwan's self-defense capability.
However, the Democratic Progressive Party (DPP) said the Ministry of National Defense and the Ministry of Foreign Affairs' efforts to describe the US arms sale of F-16A/B upgrades as an "achievement" was regretful and contradictory.
"We don't understand why the two ministries expressed gratitude when Taiwan came up short of its wish for F-16C/Ds procurement," DPP spokesperson Kang Yu-cheng (康裕成) said, noting that Deputy Minister of National Defense Andrew Yang (楊念祖) in May explained to US officials why Taiwan desperately needs the F-16C/D and yet, on Wednesday night, he said the offered package was not a bad deal and he was not disappointed at all.
DPP Legislator Huang Wei-cher (黃偉哲) said the defense ministry was being contradictory when it said the upgraded F-16A/Bs would be better than the F-16C/Ds, yet at the same time said that it planned to push for the F-16C/D procurement.
DPP spokesperson Chen Chi-mai (陳其邁) said a number of US lawmakers expressed anger at the White House's refusal to sell new jets to Taiwan and accused Obama of bowing to Chinese pressure, and yet "the defense ministry brags" about arms procurement and "describes it as an achievement."
In Beijing, China's Foreign Ministry condemned the sale as undermining overall ties and military exchanges. Chinese Vice Minister of Foreign Affairs Zhang Zhijun (張志軍) summoned US Ambassador Gary Locke in Beijing to complain. China's Minister of Defense warned the US had "created severe obstacles for normal military-to-military exchanges between the two countries."
The strong words are seen as rhetoric catering to the military and nationalistic public, who regard the US as an interloper that uses support for Taiwan as a means of restraining China's rise, according to some observers.
Additional Reporting By CNA and AP
Comments will be moderated. Keep comments relevant to the article. Remarks containing abusive and obscene language, personal attacks of any kind or promotion will be removed and the user banned. Final decision will be at the discretion of the Taipei Times.