Pilot aborts takeoff of flight to Macau
Fifteen passengers were slightly injured yesterday as they were evacuated from an Uni Air (立榮航空)/EVA Airways (長榮航空) flight at Taiwan Taoyuan International Airport after smoke was reported coming from one of the plane's engines.
Flight BR807 bound for Macau was scheduled to depart at 9am, but as the Mcdonnell Douglas MD-90 aircraft was accelerating, the captain noticed an engine warning signal. The captain decided to abort takeoff and taxied the plane back to the C2 ramp for inspection.
After reaching the C2 ramp, ground crew informed the cockpit that they saw smoke coming from the tail pipe of the plane's No. 1 engine, prompting the captain to evacuate all the passengers.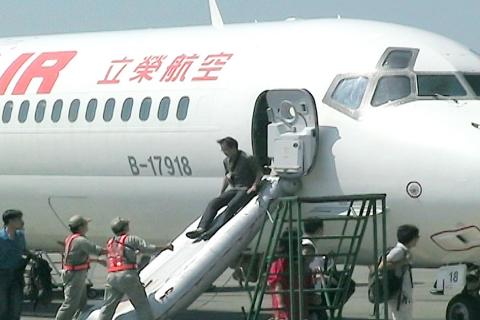 Passengers evacuate Eva Airways flight BR807, operated by subsidiary Uni Air, at Taiwan Taoyuan International Airport after smoke was reported coming from one of the plane's engines as it was preparing to depart for Macau yesterday.
Photo courtesy of a passenger surnamed Huang
The injuries occurred as passengers used the emergency evacuation slides to leave the plane.
"The 152 passengers descended quickly via the emergency evacuation slides following the instructions of the captain and flight attendants," EVA spokesperson Nieh Kuo-wei (聶國維) said. "Fifteen passengers were slightly injured during the evacuation. They were able to continue on their trip after being treated by medical professionals."
The airline apologized for delay and gave each passenger a hongbao (red envelope) and a meal coupon. Passengers finally departed at 2:40pm on a replacement plane.
Television news reports said some passengers complained that the plane had braked suddenly close to takeoff, while others blamed their injuries on skewed evacuation chutes and the lack of personnel on the ground to assist passengers as they slid down the chutes.
One woman said some passengers had asked for another cabin door to be opened because the smell of oil and smoke was making them nauseous, but flight attendants ignored the request.
Authorities said the plane had been in service for 14 years.
The Aviation Safety Council said it would hold a meeting to determine whether it or the Civil Aeronautics Administration should investigate the incident.
The council's managing director, Thomas Wang (王興中), said the determining factor was whether there had been a fire in the engine.
"If the engine was on fire it would constitute an accident and the council would have to investigate," Wang said. "If the smoke from the engine was caused by other factors, then it becomes a flight safety incident, which should be investigated by the Civil Aeronautics Administration."
Comments will be moderated. Keep comments relevant to the article. Remarks containing abusive and obscene language, personal attacks of any kind or promotion will be removed and the user banned. Final decision will be at the discretion of the Taipei Times.