Dalai Lama calls for democracy in PRC
DIFFERENT VOICES The chairman of a Tibetan religious organization said that a protest outside the Dalai Lama's hotel in Taipei reflected Taiwan's democratic maturity
The Dalai Lama yesterday called on China to introduce democracy to avoid a collapse like that of the Soviet Union.
Taiwan must also consolidate its democracy, the exiled Tibetan spiritual leader said, noting that on his first visit in 1997, he said that Taiwan's future ought to be decided by Taiwanese.
The Dalai Lama, invited to visit Taiwan to bless typhoon victims, made the comments while receiving disciples at the Howard Plaza Hotel in Taipei.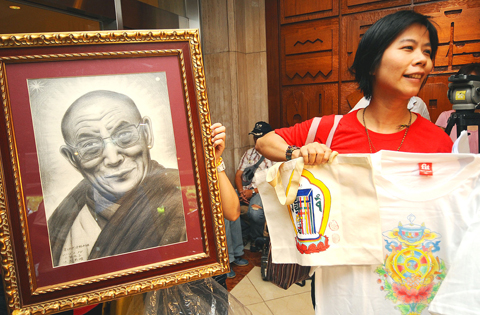 Followers yesterday bring a portrait of the Dalai Lama to a reception with the Tibetan spiritual leader at the Howard Plaza Hotel in Taipei.
PHOTO: CHIEN JUNG-FONG, TAIPEI TIMES
"Taiwan's highest value is democracy and freedom of speech," the Dalai Lama told members of the Friends of Tibet. "While you enjoy this value, I hope you can also spread it to China."
"I hope China, under communist rule, can adopt democracy and become more transparent step by step, because the sudden collapse of the Soviet Union is not the best for China," he said.
"Democratization is the trend of the world," he said yesterday. "China is part of the world, so democracy can help China's economic development."
As he spoke, hundreds of pro-China activists protested outside the hotel, clashing with police and shouting, "Tibet, China all belong to China!" and "Dalai Lama go back to India!"
A large police contingent was deployed at the scene to prevent any violence, and National Security Bureau Director-General Tsai Te-sheng (蔡德勝) went there yesterday morning to inspect the situation.
Asked to comment on the protest, Dawa Tsering, chairman of the Tibet Religious Foundation of His Holiness the Dalai Lama in Taiwan, said the protest was a show of Taiwan's democratic maturity and that he welcomed any expression of the true voices of the Taiwanese people.
Tsering said although the Dalai Lama had not made any arrangements to meet Taiwanese politicians, former Examination Yuan president Yao Chia-wen (姚嘉文) and Democratic Progressive Party Taipei City Councilor Chien Yu-yen (簡余晏) went to see him.
The Dalai Lama arrived in Taiwan on Sunday and has visited areas devastated by Typhoon Morakot, comforted survivors and held a prayer meeting for victims attended by 15,000 people. He traveled to Taipei on Wednesday.
China has accused the Dalai Lama of seeking independence for Tibet. The Dalai Lama has been leading the Tibetan government-in-exile in India since he fled Tibet after an abortive uprising against a Chinese invasion in 1959.
Beijing has denounced the Dalai Lama's visit to Taiwan and said it could derail growing cross-strait relations. President Ma Ying-jeou (馬英九) has not met the Dalai Lama on this trip, who was scheduled to leave Taiwan this morning.
In an interview with the Public Television Service (PTS) on Wednesday, the 73-year-old Tibetan Buddhist leader stressed that the trip was purely religious, reiterating that it had no political considerations.
He said he was not disappointed that he was not meeting Ma because he usually traveled the world to promote the "harmony of Buddhism" and have simple conversations with others.
The Dalai Lama said that he met international leaders on his travels, but just "occasionally." Sometimes they wanted to meet him because these national leaders, like everyone else, also wanted to have peace of mind, he said.
In response to a question on concerns that his trip had hurt Taiwan-China ties, the Dalai Lama said: "It's too early to say that. We wait another six months or one year, then we will know."
During the interview, the Dalai Lama said that he saw the government and non-government organizations bringing a lot of money and relief to the disaster areas, helping victims to rebuild their houses and villages. From a religious aspect, he was giving them hope and faith on a spiritual level. But because of global warming, experts seemed to believe that the chance for such disasters might increase in the future, so the government should find them a safe new home.
In response to a question about religious difference between the Dalai Lama and most of the victims, he said that people's ethnicities, nationalities or even religions really make no difference to him, because they are all humans.
In response to a question about criticism that his visit was politically motivated, the Dalai Lama said that none of the parties involved were playing politics.
At a separate setting yesterday, when asked for comments on the Dalai Lama's nephew, Khedroob Thondup, who said that Taiwan's government had put a "gag order" on the exiled religious leader out of fears of Beijing's reaction, Presidential Office Spokesman Wang Yu-chi (王郁琦) declined to comment.
Wang also denied that Presidential Office Secretary-General Chan Chun-po (詹春柏) had met the Tibetan representative and made a three-point request, including that the monk would refrain from engaging in political activities.
ADDITIONAL REPORTING BY KO SHU-LING
Also See: EDITORIAL: Propaganda overshadows Dalai Lama
Also See: China's reaction not easy to call: MAC
Comments will be moderated. Keep comments relevant to the article. Remarks containing abusive and obscene language, personal attacks of any kind or promotion will be removed and the user banned. Final decision will be at the discretion of the Taipei Times.