Wu bows out as Ma runs for KMT chair
SPECULATION CONFIRMED The president said that he would run in the July 26 KMT chairman election, while the opposition expressed concern about checks and balances
President Ma Ying-jeou (馬英九) announced yesterday he would run in the Chinese Nationalist Party (KMT) chairman election on July 26 to push for closer cooperation between the government and the party.
"I am prepared to join the next KMT chairmanship election, to again lead this party that has established and protected the Republic of China and to continue party reform ... I have decided to run in the party chairman's election not to expand my power, but to fulfill my responsibility," Ma said at a press conference at KMT headquarters yesterday afternoon.
Ma, accompanied by KMT Chairman Wu Poh-hsiung (吳伯雄) and top party officials, thanked Wu for his long-term support and for taking over as KMT chairman after Ma stepped down over the mayoral special allowance fund case.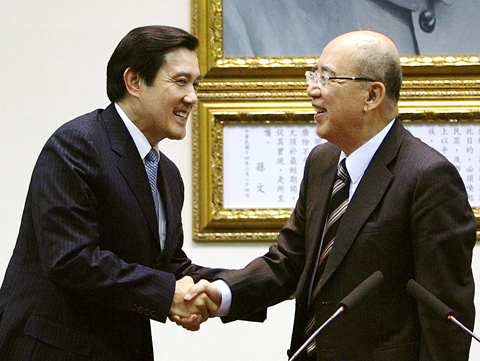 President Ma Ying-jeou, left, and KMT Chairman Wu Poh-hsiung shake hands during a joint news conference at KMT headquarters in Taipei yesterday.
PHOTO: PICHI CHUANG, REUTERS
Wu said he would not run in the election. He said Ma had told him about his intention to run for the chairmanship two days ago. Wu said he would cooperate by not running in the election.
"I am under tremendous stress these days ... I've made it clear that it would be impossible for me to compete with President Ma in the election," Wu said.
Ma and Wu had planned to finalize the issue next Monday when registration opens for the party's chairmanship election, but decided to hold a joint press conference yesterday to explain the issue after speculation mounted over a power struggle between the two.
Wu yesterday said he had brought up the KMT chairmanship with Ma in April last year and had said he had no intention of getting involved in any power struggles.
Taking over as KMT chairman two years ago was not part of his plan, Wu said, adding that he was grateful for cross-strait developments and the victories in legislative and presidential elections that he helped the party achieve.
"I have no intention of competing with anyone and I hope my decision today will help [the party] turn to the next generation. A 70-year-old man should know when to quit," Wu said.
Ma is 59 years old.
Ma later confirmed Wu had consulted with him in April last year about the possibility of his taking over the party chairmanship shortly after he won the presidential election, but he had not thought it would be necessary to double as party chairman.
Wu mentioned the issue again last September and the two agreed to discuss it this month.
Ma yesterday denied that the lack of cooperation between the party and the government prompted him to change his mind, and reiterated that taking over the chairmanship would help the government function more smoothly.
When asked to comment on his previous opposition to the idea of the president doubling as party chairman, Ma said no laws banned the president from doing so.
"I thought it would be unnecessary [to double as KMT chairman] when I took office last year, but I now believe that the party and the government should fully cooperate as we have faced various challenges over the past year," Ma said.
As to the forum between the KMT and the Chinese Communist Party, Ma declined to confirm whether he would attend and meet Chinese President Hu Jintao (胡錦濤) in his capacity as KMT chairman.
The KMT chairman election is scheduled for July 26 and the new chairman will formally take over the position on Sept. 12.
KMT caucus deputy secretary-general Lu Hsueh-chang (呂學樟) said yesterday the party should still complete its democratic procedures to elect its next chairman. Another caucus deputy secretary-general, John Wu (吳志揚), son of Wu Poh-hsiung, said his father was glad to hand over the position to the president.
KMT Legislator Lo Shu-lei (羅淑蕾) held a different view, expressing concern about the impact of Ma's decision. Now the president would enjoy absolute power and no one would be able to influence his decisions, she said.
"He can do whatever he wants," Lo said. "No one can control him anyway. He now becomes the most powerful person in Taiwan."
At a separate setting yesterday, Democratic Progressive Party (DPP) Chairperson Tsai Ing-wen (蔡英文) said that after Ma becomes KMT chairman, Taiwan's democratic system would be in danger because the system of checks and balances would totally lose efficacy. Only referendums would remain to check Ma's power, she said.
DPP Legislator Chai Trong-rong (蔡同榮) said the spirit of democracy lies in the division of power, but Ma wants to control the government, the military, the intelligence, the party and the legislature, "and become a dictator of the country."
Former vice president Annette Lu (呂秀蓮) also voiced her concern, saying that these are signs of Ma's intention to gain more control over politics and move Taiwan closer to unification with China via the KMT-CCP exchange platform.
"Once Ma becomes the [KMT] chairman, he will have the power to nominate candidates for the year-end local government head elections, as well as for the next legislative election," Lu said. "With nomination power, all KMT politicians who seek to run in elections — including those who would often disagree with Ma — will have to listen to him."
ADDITIONAL REPORTING BY FLORA WANG, RICH CHANG AND LOA IOK-SIN
Comments will be moderated. Keep comments relevant to the article. Remarks containing abusive and obscene language, personal attacks of any kind or promotion will be removed and the user banned. Final decision will be at the discretion of the Taipei Times.