'Unwell,' teary Zhang returns to China
PROVOCATION Former president Chen Shui-bian said the ARATS deputy was at fault for visiting just before a big DPP rally — and visiting Chen's hometown of Tainan
Amid heavy police protection and sporadic protests, Association for Relations Across the Taiwan Strait (ARATS) Vice Chairman Zhang Mingqing (張銘清) yesterday tearfully left for home ahead of schedule after he was jostled and jeered by pro-localization activists and politicians on Tuesday.
Zhang, who left for Beijing from Kaohsiung International Airport yesterday morning, told reporters that the past three days were "memorable." He emphasized, however, that he was not referring to Tuesday's incident but to the warmth of Taiwanese.
"I believe those who behaved violently do not represent Tainan residents or the 23 million people of Taiwan," he said.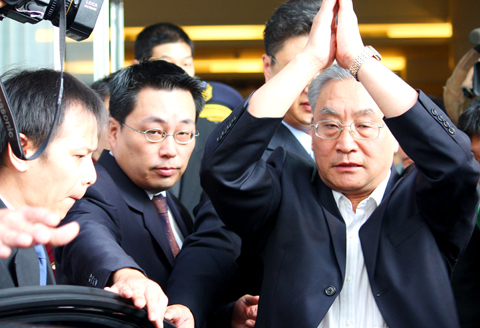 Association for Relations Across the Taiwan Strait Vice Chairman Zhang Mingqing makes a gesture to reporters as he leaves his hotel in Tainan yesterday morning.
PHOTO: CNA
"Such violence will never sabotage cross-strait exchanges and development nor will it affect the peaceful situation in the Taiwan Strait. I hope it will not happen again and will make peoples on both sides of the Taiwan Strait get along better and cross-strait exchanges become smoother," he said.
Zhang said he had to leave because he did not feel well and both ARATS Chairman Chen Yunlin (陳雲林) and China's Taiwan Affairs Office Chairman Wang Yi (王毅) wanted him to return to Beijing for a full physical check-up.
"The longer I stay, the more police officers will be deployed to protect me and the higher cost to society. I don't think I should cause them so much trouble," Zhang said, tears welling up in his eyes.
Zhang fell to the ground during a confrontation with Tainan City Councilor Wang Ding-yu (王定宇) of the Democratic Progressive Party (DPP) while on a private visit to the city's Confucius Temple on Tuesday.
Wang, who was summoned for questioning after Zhang filed assault charges over the incident, argued that Zhang fell because he tripped over the root of a tree.
To ensure Zhang's safety yesterday, nearly 300 police officers from Tainan City, Kaohsiung City and the Aviation Police Office were deployed.
Among the individual protesters, Kaohsiung City Councilor Hsiao Yung-ta (蕭永達) was escorted away by police at the airport lobby, where he shouted slogans and held a white banner that read "protecting Taiwan's sovereignty."
"I am here today to say that Taiwan is a sovereign nation," he said. "Taiwan and China are different countries on each side of the Taiwan Strait."
He later held a press conference, accusing the aviation police of manhandling him and questioned why they only protected pro-unification supporters.
Straits Exchange Foundation (SEF) Chairman Chiang Pin-kung (江丙坤) and Chinese Nationalist Party (KMT) Deputy Secretary-General Chang Jung-kung (張榮恭) were at the airport to see Zhang off.
During the 30-minute meeting with Zhang, Chiang said he apologized and expressed the hope that the incident would not affect "normal interactions" or Chen's upcoming trip.
Chiang said he explained to Zhang that the temple incident was an isolated case and that he did not think the incident would affect future cross-strait exchanges or the ARATS chairman's upcoming trip, although Zhang told him it might have some negative impact on Chinese tourists.
Meanwhile, in Nantou County yesterday, former president Chen Shui-bian (陳水扁) said that Zhang had provoked the incident in Tainan.
Chen said nobody supports violence, but Beijing authorities should ask themselves why the temple incident happened in the first place.
Zhang chose to visit Taiwan before a demonstration organized by the DPP and other pro-Taiwan groups on Saturday, Chen said.
"Some people say that is an act of provocation," he said.
Second, Zhang picked the former president's hometown and wandered about by himself, Chen said.
"That was the second provocation," he said.
Third, while President Ma Ying-jeou (馬英九) said there would not be war in the Taiwan Strait in the next four years, Zhang responded by saying: "There will never be war if there is no Taiwan independence."
"Does he mean Taiwan must surrender? Or Taiwan must become a part of China or a region of the People's Republic of China?" Chen said. "That's what people say: you get what you ask for. There are too many provocations that are unacceptable."
Premier Liu Chao-shiuan (劉兆玄) told reporters at the Executive Yuan that the government's plan to arrange the meeting between Chen Yunlin and Chiang at the end of this month remained unchanged despite Tuesday's melee.
Describing the incident as "unexpected," Liu urged the public to condemn the use of violence.
Liu dismissed the idea of holding the meeting in a third country to minimize tensions: "We are a democracy. We respect the expression of different voices ... There is no need to dodge [any potential protests]. The only thing we have to do is to do our best to ensure Chen Yunlin's safety."
When asked if the government would also condemn China for aiming missiles at Taiwan, Liu said the government had repeatedly urged China to remove the missiles and not to hurt the feelings of Taiwanese people.
KMT caucus deputy secretary-general Lo Shu-lei (羅淑蕾) told a press conference that Zhang's decision to return home early was regretful.
"The DPP has sacrificed the image and interests of our nation for its political gains," she said.
KMT Legislator Lee Hung-chun (李鴻鈞) also lashed out at Wang Ding-yu, saying "he obviously had political motives" when he confronted Zhang.
Lee urged the public to show empathy toward Zhang.
"If [SEF Secretary-General] Kao Koong-lian (高孔廉) were treated this way in China, we would have made the same requests [that those responsible be punished]," Lee said.
Legislative Speaker Wang Jin-pyng (王金平) said he expected Taiwanese to treat any visitors politely because this was democractic.
"Both sides of the Strait should respect and treat each other with courtesy to facilitate cross-strait peace and prosperity," he said.
KMT Spokesman Lee Chien-jung (李建榮) said some party members had complained about the lack of promotion for the upcoming "historical Chiang-Chen meeting."
He said the KMT and the Presidential Office had reached a consensus on stepping up efforts to promote Chen Yunlin's visit and to explore the positive impact of the upcoming meeting and recent cross-strait exchanges.
In related news, a survey by Global Views magazine showed that 50.3 percent of respondents supported Chen Yunlin's upcoming visit while 31.2 percent opposed it.
The survey, which polled 1,005 people, was conducted between Oct. 14 and Oct. 16 via telephone.
Asked about the talks, 64.3 percent of respondents said a deal on a cross-strait reporting system on food safety issues would benefit Taiwan.
ADDITIONAL REPORTING BY MO YAN-CHIH AND CNA
Comments will be moderated. Keep comments relevant to the article. Remarks containing abusive and obscene language, personal attacks of any kind or promotion will be removed and the user banned. Final decision will be at the discretion of the Taipei Times.